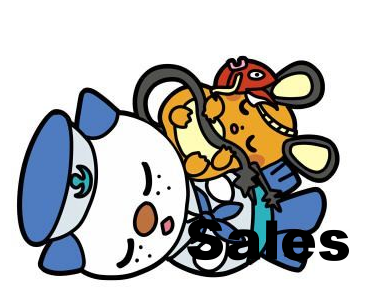 The Basic Info
Granted Sales Permission by
entirelycliched on July 27th 2013
feedback page:http://feedback.pkmncollectors.net/feedback/view/polahbear/

Items come from a smoke free/pet free home

I will not sell to banned community members.

Payment/Shipment

I ship from the U.S. and international shipping for nonflats starts at $6.55 for small nonflats and, 7.65 for Canadians, and $9.55 for everywhere else for smaller plushes. Domestic shipping starts from $2.50 I try to estimate the cheapest shipping possible (Pp and packaging fees are not included in my prices unless stated)

I accept Paypal only. When sending payment, please include your lj username, what you bought in the notes, and mark as goods. PAYMENT MUST BE SENT WITHIN 24 HOURS AFTER COMMITMENT.

I am not responsible for lost items once it leaves my possession. If you need a receipt for confirmation please tell me. I will notify you when the package has been sent.(Usually by paypal for US buyers and comments for international buyers). I ONLY KEEP RECEIPTS FOR ABOUT A MONTH BEFORE I THROW THEM AWAY.

I always write the true value of the items for international buyers, so if you have a problem with this, tell me and we can work something out.

I will take payment plans. Please discuss with me since this is by case by case.

I can do holds and it will be treated as a commitment to the item

Please do not private message me about an item. Post it here. PLEASE DO NOT EDIT MESSAGES! IF YOU NEED TO ADD OR MAKE CHANGES, JUST REPLY TO YOUR OWN THREAD

Inquiring about items

For OBO offers, people who offer to pay full price will get priority! First Come First Serve If there is a commitment for the same item below you, you have 12 hours to respond, or the items will go to the next person. PLEASE DO NOT HAGGLE!

PLEASE CLARIFY WHETHER YOU ARE INTERESTED IN THE ITEM (WANT A QUOTE) OR IS JUST ASKING ABOUT THE CONDITION. For example: "What is the condition of _____? if it is ______ then I would like a quote to ____"

"MAY I HAVE THIS TO ______" WILL BE CONSIDERED AS A COMMITMENT. IF YOU WANT A QUOTE, SAY QUOTE SOME WHERE IN YOUR POST OR I WILL leave negative feedback if you back out of a sales! Any form of statement without the word QUOTE is treated as a commitment!

Clearfiles cannot be combined with nonflats

IF YOU WANT FEEDBACK, PLEASE LET ME KNOW AND LINK ME TO YOUR FEEDBACK PAGE!

Please send payment as GOODS AND SERVICES!

IF YOU HAVE READ MY RULES PLEASE PUT THE WORD "PORCUPINE" SOMEWHERE IN YOUR POST!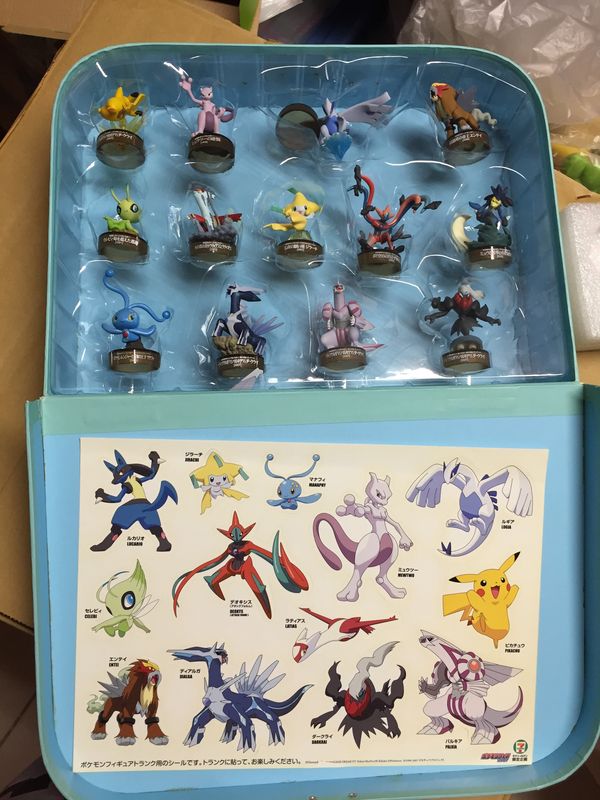 Full set of bottle cap figures with stickers: $50 OBO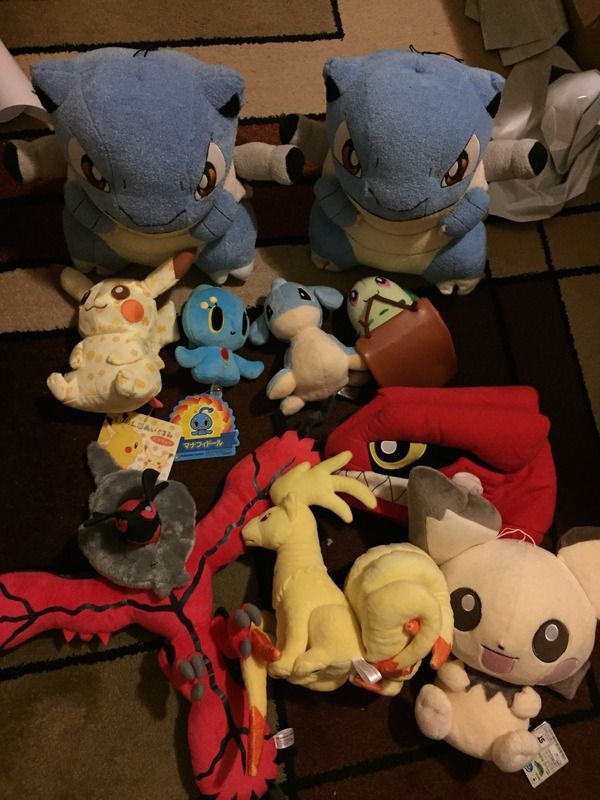 DX banpresto kawaii blastoise tto: $50
DX banpresto kawaii blastoise no tags: $43
PC patched pikachu (hang tag creased): $20 OBO
Manaphy pokedoll MWT: $20
minky lapras pokedoll tto: $25
tto sledding chikorita: $30
Groudon Hat tto: $25
Japanese yveltal plush tto, the plastic parts on the plush are cracked: $25
Japanese PC Ninetales Plush tto: $22
DX banpresto pichu (super soft) MWT: $12



1:1 life size treeoko Japanese version hang tag creased: $60
PC fuzzy pikachu tto: $20 OBO
Japanese PC servine plush tto: $15
Japanese PC standing fennekin tto: $12
PC balloon Pikachu tto: $40
MWT large pikachu tail: $18
Deoxys pokedoll attack form (hang tag creased): $35
PC lucario hammer (hang tag creased): $30 OBO
2013 Charizard pokedoll (tto): $25
scraggy pokedoll (tto): $15
PC Spritzee plush tto: $15
Audino canvas tto: $13




Swirlix PC plush jp tto: $15
Shiny genesect pokedoll jp tto: $25
Japanese PC Espurr Plush tto: $13
Japanese venusaur pokedoll tto: $35
Japanese Minky Latias pokedoll tto: $35
Japanese Litleo Pokedoll tto: $16
Japanese oversized greninja pokedoll: $32
Japanese oversized greninja MWT: $40
Mega Rayquaza PC plush (hang tag creased): $35
Jirachi pokedoll MWT: $20
Japanese PC Fletchling plush tto: $13
Japanese Frogider PC plush tto: $17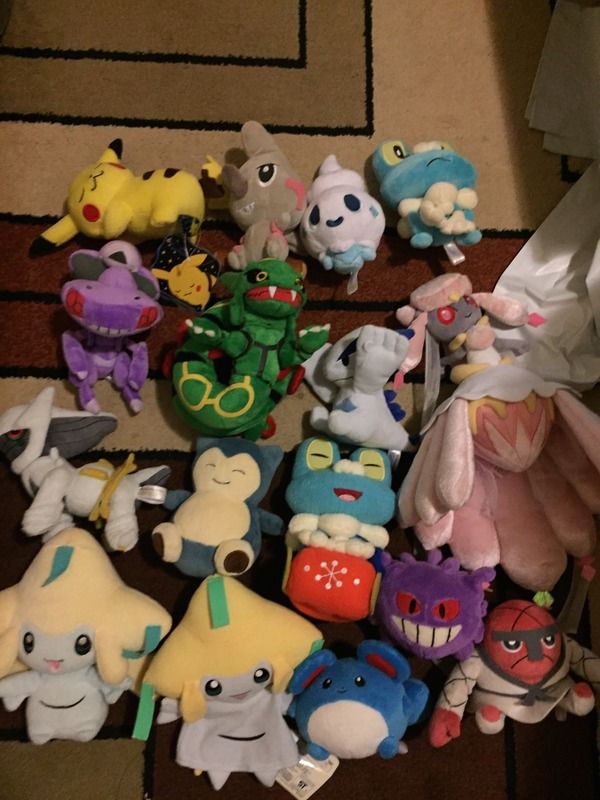 Sleeping onemuri pikachu plush (hang tag may be crease): $30 OBO
timburr japanese tto: $13
Vanillite pokedoll tto japanese: $15
PC froakie tto japanese: $8
Genesect pokedoll japanese tto: $25
Banpresto rayquaza plush tto: $20 OBO
minky japanese lugia pokedoll tto: $20
Mega Diancie Japanese Pokemon Plush tto: $35
Minky Japanese arceus pokedoll tto: $15
Minky Snorlax pokedoll tto: $35 OBO
xmas froakie no tags: $25 OBO
Gengar pokedoll tto: $40
Bandai jirachi plush tto: $12
lottery puppet jirachi plush (the plastic green strap things are cracked): $10 OBO
Marill pokedoll tto: $65
Throh pokedoll tto: $15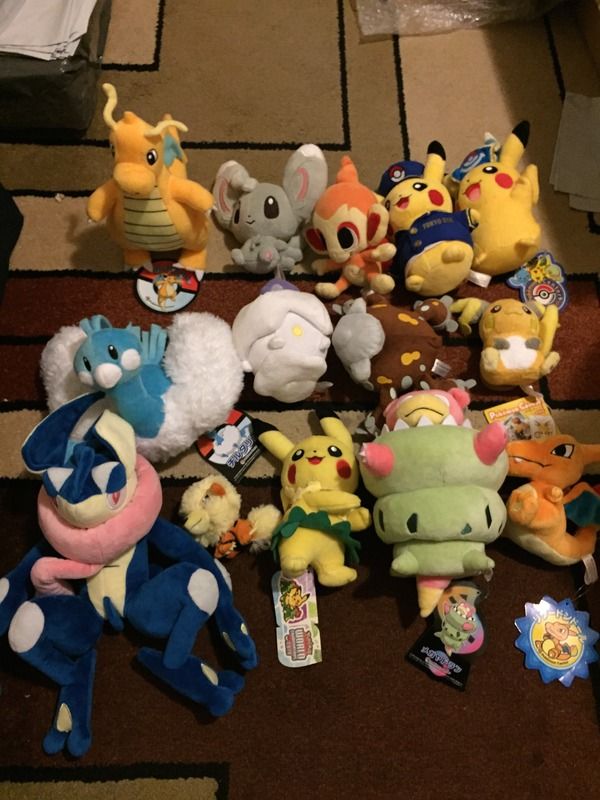 Dragonite (on hold)
jp Minccino Pokedoll tto: $15
jp chimchar pokedoll tto: $6
Tokyo station pikachu tto: $23
Sailor Pikachu plush (hang tag may be creased): $20
Pokemon Center Altaria plush (hang tag may have small creases): $35
Litwick pokedoll tto: $30
heatran pokedoll tto: $30
Raichu Canvas MWT: $45
PC Greninja Plush (no tags): $30 OBO
japanese petit arcanine plush tto: $10
2010 World Championships Pikachu Plush: $50
Mega Slowbro Japanese Pokemon Center Plush (hang tag may have small creases): $35



Large lottery PIkachu Cushion tto: $40
DX pikachu Pokedoll (hang tag has small crease): $45
Lottery Pikachu face cushion tto: $20
Audino pokedoll (on hold)
victini pokedoll tto: $16
2013 rotom pokedoll tto: $20
Shaymin petit plush MWT: $15
Dedenne petit plush MWT: $12
Pikachu Pokemon with you mascot plush MWT: $20 OBO
Pokemon Time sneasle tto: $40
Pokemon time xatu tto: $40



Pokepark kyogre tto: $40
Pokepark groudon tto (groudon has a small mark under chin): $40
Sleeping tepig plush: $80
Sleeping Snivy Plush: $150
Sleeping Oshawott Plush: $120



September, august, july, may, november, december, march Pikachu Monthly Keychains MIP: $7 each
Pikachu, Diancie, hoopa keychains: $7 each
xerneas, zygarde, absol charms: $5 each
Mega Manetric, primal groudon, primal kyogre charm sets: $10 each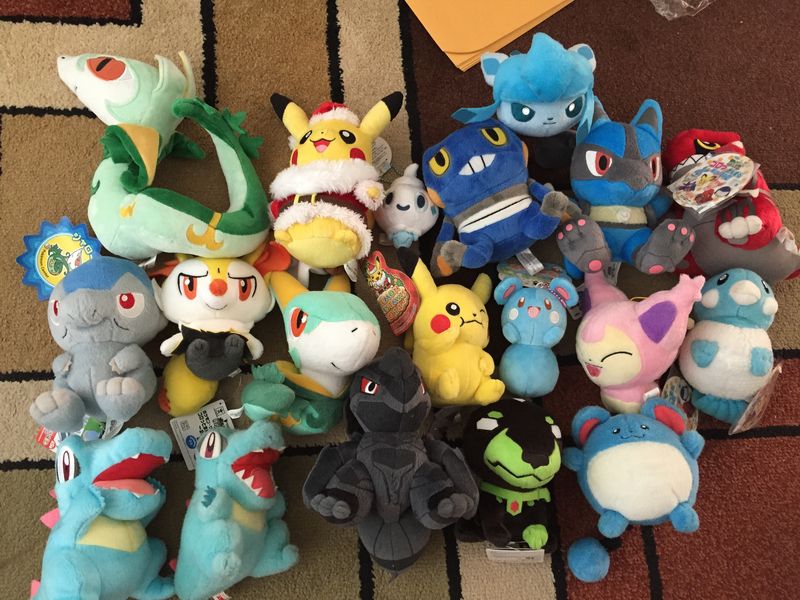 Serperior Pokedoll (creased tag): $35
Xmas pikachu (creased tag): $20
type focus vanillite MWT: $10
croagunk pokedoll tto: $20
glaceon kokorin plush MWT: $15
banpresto lucario MWT: $15
Banpresto Groudon MWT: $35 OBO
Banpresto Cranidos with tag: $20 OBO
banpresto braixen MWT: $15
banpresto serperior tto: $12
Muching Pikachu from rainbow series tto: $20 OBO
baby series azumarill MWT: $15
banpresto skitty MWT: $20
Banpresto altaria MWT: $50 OBO
Banpresto totodile tto: $8
Tomy totodile: $8
Banpresto zekrom tto: $7
Banpresto zygarde 10% plush MWT: $17
Tomy marill: $7



Lottery charmander with tag: $15 OBO
Axew pokedoll (creased tag): $17
zekrom pokedoll (tto/jp version): $45
PC Snivy tto: $5
Banpresto DX Mew tto: $40 OBO
Sentret tail charm mwt: $20 OBO
eevee coin pouches: $10 each
piplup canvas: $5
pikachu canvas: $20
Roselia banpresto tto: $30
fuzzy tomy bulbasaur with tag: $25 OBO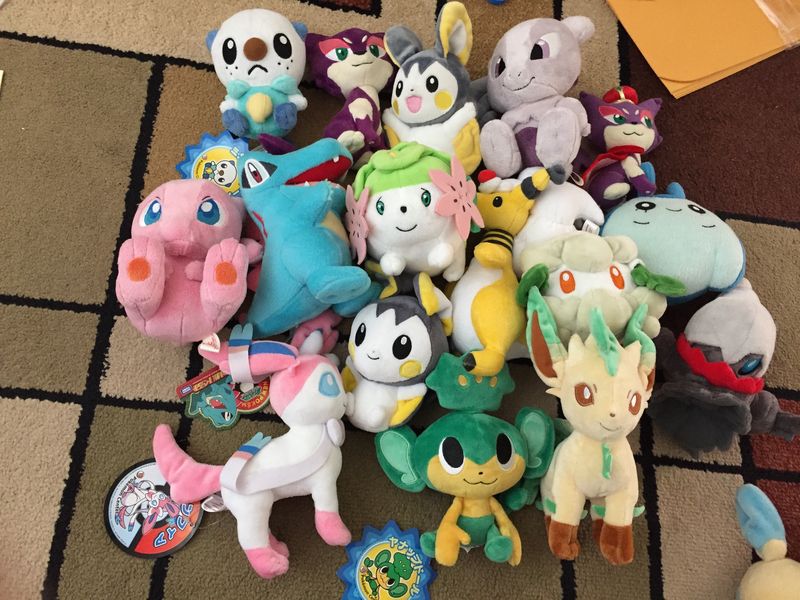 Oshawott pokedoll (may have minor creases on tag): $18
PC purloin tto: $9
PC emolga tto: $8
Kawaii mewtwo tto: $25
royal purrloin tto: $15
banpresto kawaii mew tto: $25
takara tomy totodile: $15 OBO
takara tomy shaymin: $10
mega amphoras tto: $17
cottonee pokedoll tto: $5
mantyke pokedoll tto: $13
darkrai pokedoll tto: $15
PC Sylveon (may have minor creases): $20
emolga pokedoll tto: $13
pansage pokedoll (tag may have minor crease): $17
PC leafeon jp version tto: $15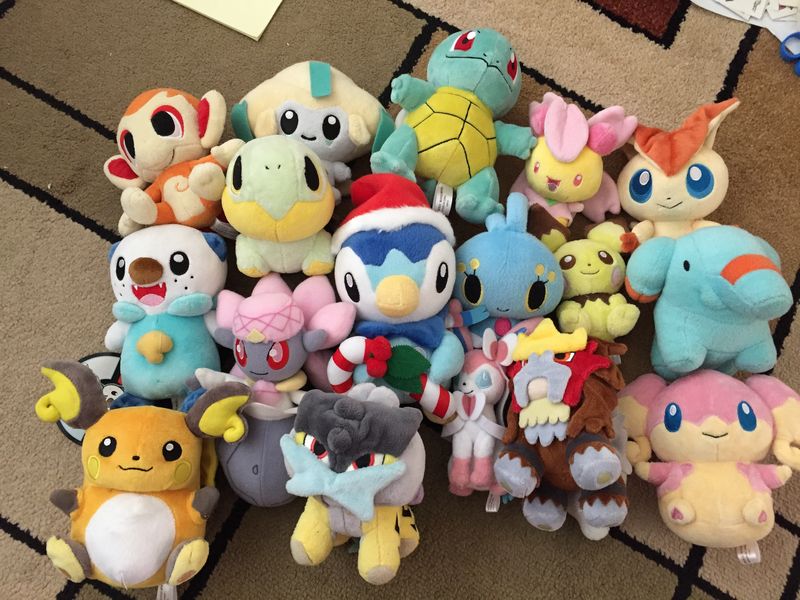 Chimchar pokedoll tto: $8
turtwig pokedoll tto: $10
Jirachi pokedoll tto: $20
PC squirtle tto: $10
cherrim canvas tto: $25
victini pokedoll tto: $16
PC oshawott (hang tag may have minor crease): $10
xmas pokemon center piplup: $20
manaphy pokedoll: $15
pichu canvas tto: $15
phanpy pokedoll tto: $70
Raichu Pokedoll tto: $40
PC (lottery?) diancie: $8
Raikou pokedoll tto jp: $30
entei pokedoll tto jp: $30
Trick pose sitting sylveon tto: $20 OBO (i have an extra one with a creased hang tag for $25 OBO)
Audino pokedoll tto: $15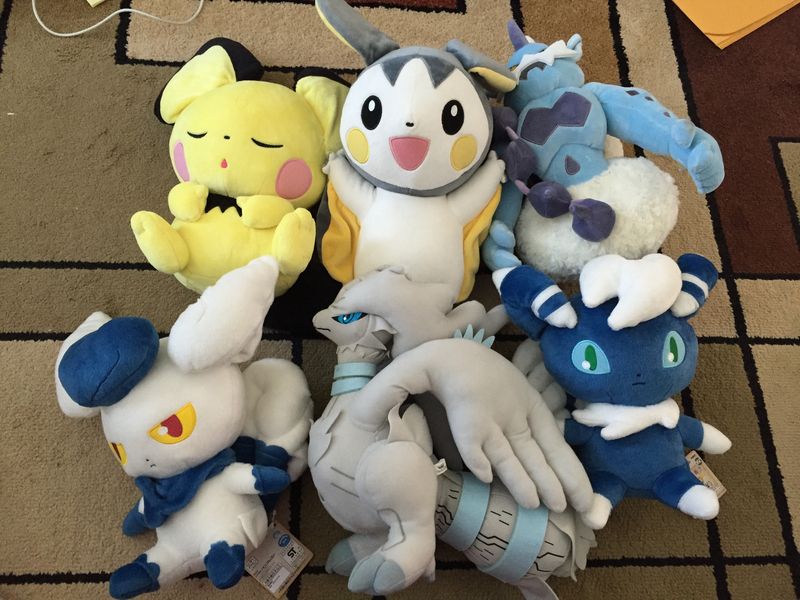 1:1 Sleeping gizami pichu tto: $75
1:1 Japanese Emolga tto: $40 OBO
PC thunderus PC tto: $15
Banpresto meowtics MWT: $15 each
Banpresto reshiram tto: $15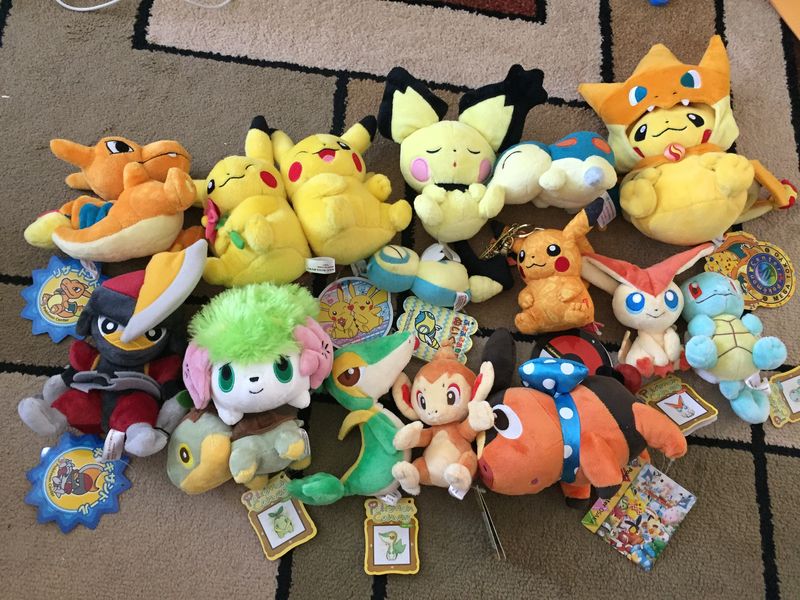 Charizard pokedoll: $30
Pikachu pair: $70 OBO
Smaller sleeping gizami pichu tto: $30
Anniversary Cyndaquill Pokedoll tto: $45 OBO
Original Megatokyo pikazard: $30
Bisharp Pokedoll: $17
shaymin pokedoll: $17
dunsparce shaky plush (hang tag is a bit creased): $30 OBO
turtwig canvas: $15
Snivy canvas: $15
chimchar canvas: $15
Osaka Tepig: $40 OBO
Victini canvas: $20
beams pikachu: $20 OBO
Squirtle Canvas: $25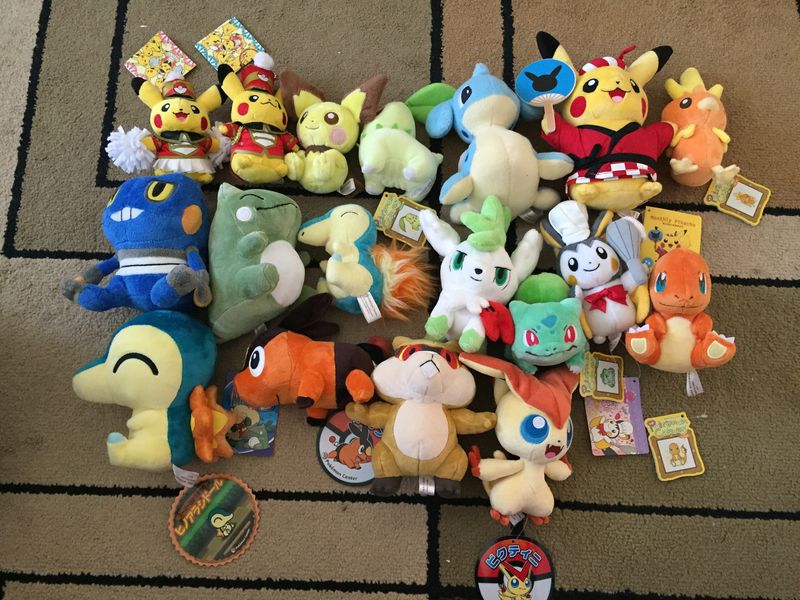 Parade pikachu keychain plush: $15 each
pichu canvas tto: $15
Chikorita Canvas tto: $20 OBO
lapras pokedoll jp: $25
Monthly pikachu: $25 OBO
Torchic canvas: $15
croagunk pokedoll tto: $20
Substitute plush with tag: $20
cyndaquill canvas tto: $10
shaymin pokedoll: $17
bulbasaur canvas: $25
Charmander canvas:$ 30
Chef emolga: $30 OBO
Secret Base Cyndaquil: $25 OBO
Tepig PC: $8
patrat PC: $6
Victini PC: $10 OBO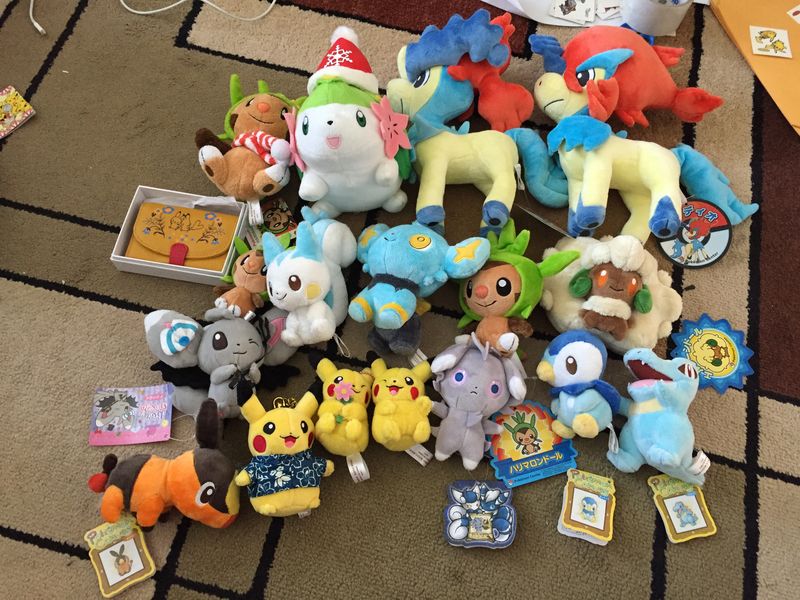 xmas chespin tto: $20
PC shaymin xmas tto: $25 OBO
keldeos with tags: $15 each
little tales cards case: $25
petit chespin MWT: $12
Pachirisu canvas: $15
shinx pokedoll tto: $40
chespin pokedoll: $17
Whimsicott pokedoll: $45
Canvas tepig: $15
Minccino: $30 OBO
patterned shirt pikachu keychain plush tto: $9
Pikachu Pair keychains tto: $25
espur: $15 OBO
Piplup Canvas: $10
totodile canvas: $20



Lampet MWT: $25
raichu canvas tto: $30
station master pikachu (curved hang tag): $18
victini pokedoll: $20
purloin canvas: $15
Pansage/panpour/pansear PC plush set: $25
Keldeo pokedoll (minor creases): $17
Oshawott Canvas: $15
buneary canvas tto: $12
blue shirt pikachu keychain plush tto: $9
Eevee Canvas tto: $25
Leafeon canvas tto: $28
flareon canvas tto: $30
espeon canvas tto: $32
Glaceon canvas tto: $28
vaporeon canvas tto: $35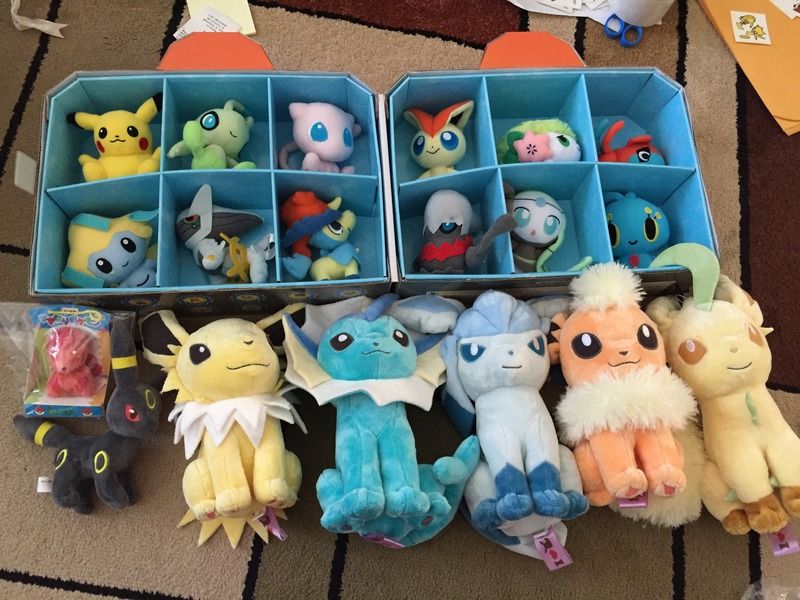 Umbreon canvas tto: $34
Vulpix bell plush: $200 OBO
DX Jolteon, Glaceon, leafeon tto: $16 (MWT Jolteon/Glaceon: $19 each)
DX vaporeon, Flareon tto: $17 (MWT Vaporeon: $21)
Mini Pokedoll Set: $120 (may haggle on this)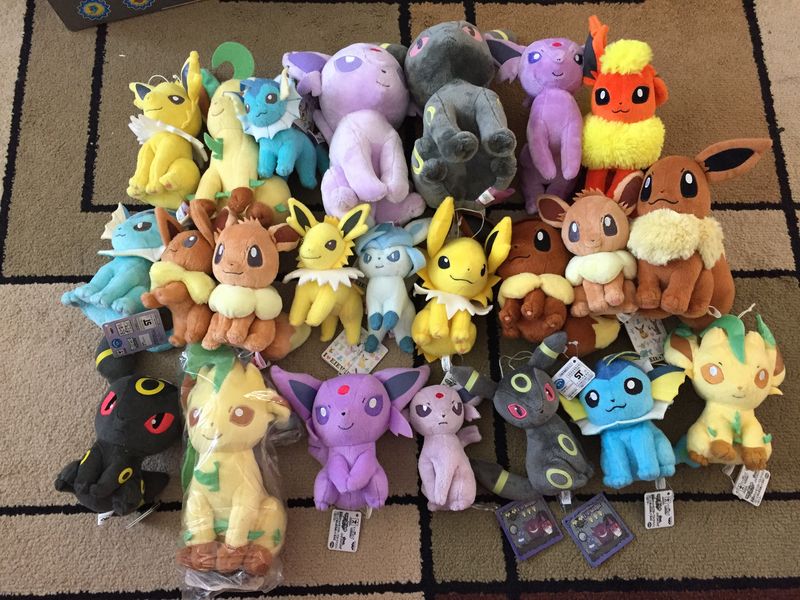 Sitting Jolteon tto: $8
Takara Tomy Leafeon tto: $10
Vaporeon standing keychain MWT: $12
DX Umbreon and Espeon MWT: $20 each
Japanese tto Standing espeon/Flareon Plush: $12 each
Sitting Vaporeon MWT: $13
Standing eevee keychain MWT: $10
Standing jolteon keychain MWT: $10
Standing glaceon keychain tto: $7
sitting eevee plush tto: $8
kotoromaru? jolteon/Leafeon/Eevee/Umbreon/Espeon MWT: $15 each
Sitting eevee MWT: $10
takara tomy eevee tto (tail dirty): $5
MWT takara tomy sitting leafeon: $14
I love gothic Umbreon and Espeon: $20 each OBO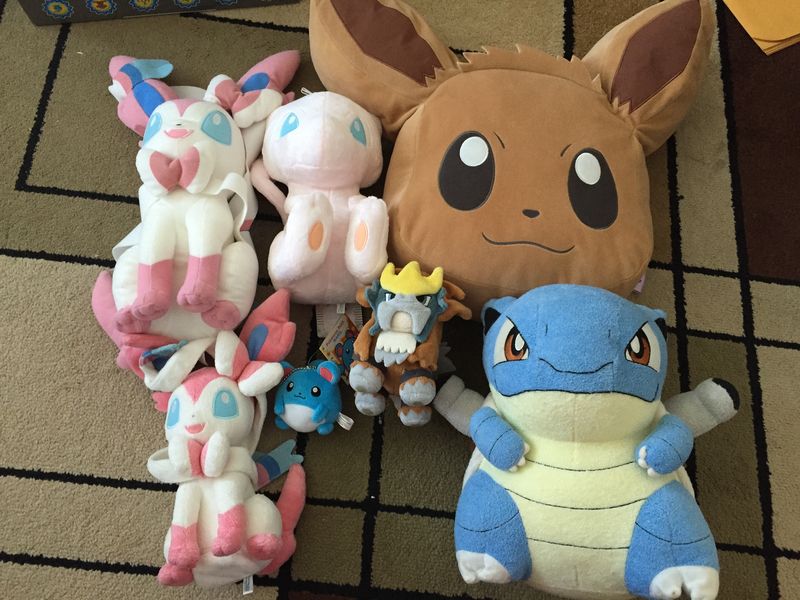 Super DX Banpresto Sylveon plush MWT (biggest sylveon plush made): $50
Talking sylveon plush (no voice box): $15
MWT Sitting Mew Plush: $30
Big eevee cushion tto: $17
maril petit mwt: $15 OBO
Shiny Entei Pokedoll tto: $300
banpresto blastoise (no tags): $40 OBO



Pokemon suitcases: $10 each OBO (shipping may be high)
Pokemon Center Playset (has all the pieces): $20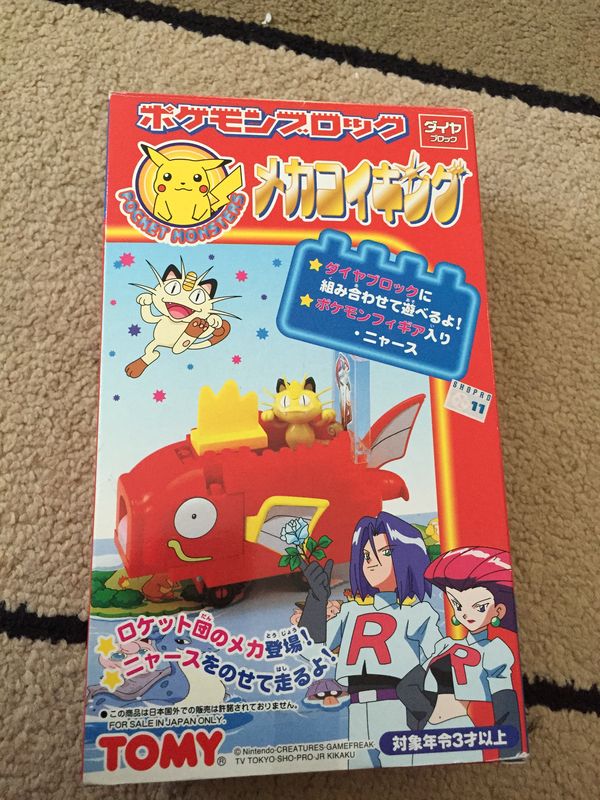 Team Rocket playset (has all the pieces: $15








Clefairy near mint hang tag: 150 OBO
Pastel colored Pokemon center pikachu: SOLD
Subby near mint hang tag:22
PC Minccico life size near mint hang tag: SOLD
Pansear pokedoll (a bit loved): SOLD
Pansage pokedoll: 13
Magikarp minky pokedoll: 80
2009 shiny magikarp: $35 OBO
Umbreon pokedoll sold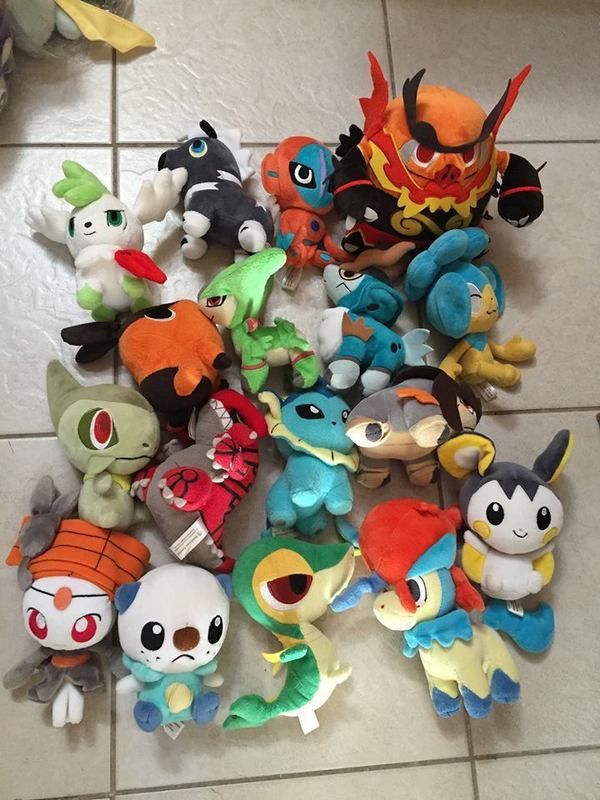 ALL JAPANESE POKEDOLLS and tush tag only
shaymin: $15
bliztle: $13
deoxys (tush tag has slight tear): $12
emboar: $27
tepig: $13
terrakion no tags: $10 each
panpour: SOLD
axew: $15
groudon: $33
vaporeon: $33
emolga: $13
keldeo, virizion, cobalion no tags: $11 each
Meloetta: $15
oshawott: $14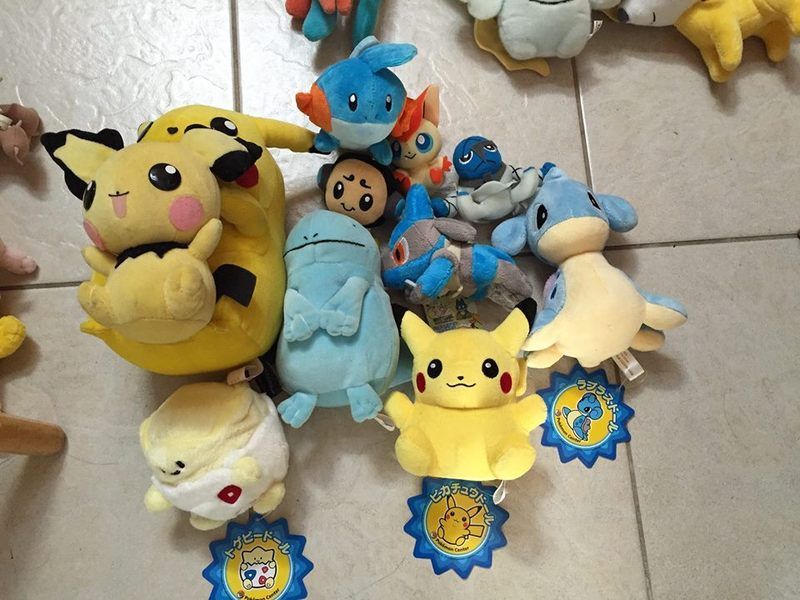 DX delux pikachu and pichu: SOLD
laying tomy mudkip: $8
Mini pokedolls (has no chains): victini is $7, sawk and tympole are $5 each
Lapras pokedoll: Hang tag is 8/10 condition: $43
pikachu pokedoll: Hang tag is 7/10 condition: $18
Togepi Pokedoll: Hang tag is 9/10 condition: SOLD
Banpresto quagsire (a bit dirty): $20 OBO
Laying lucario MWT: $30



xmas pikachu with tag: $45
Talking dedenne MIP: $35
Premalive Eevee MIB: $25



Axew pokedoll tto: $15
Sleeping pichu tto: $35 OBO
spikey eared pichu pokedoll tto: $15
PC japanese victini tto: $8
Cubchoo pokedoll tto: $15
buneary pokedoll tto: $20
Cherrim pokedoll tto: $35
lugia pokedoll minky tto: $25
tepig pokedoll tto: $14
lying down croagunk tto: $13
Chikorita anniversary pokedoll (leaf has damage): $10
torchic anniversary pokedoll: $20
eevee pouch mwt: $10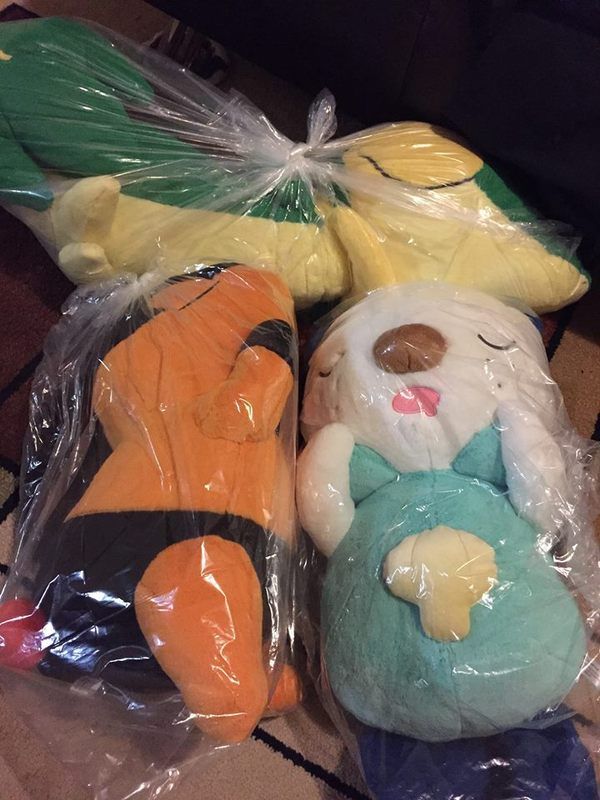 Sleeping new years set in very good condition: $350 (may split if multiple interest)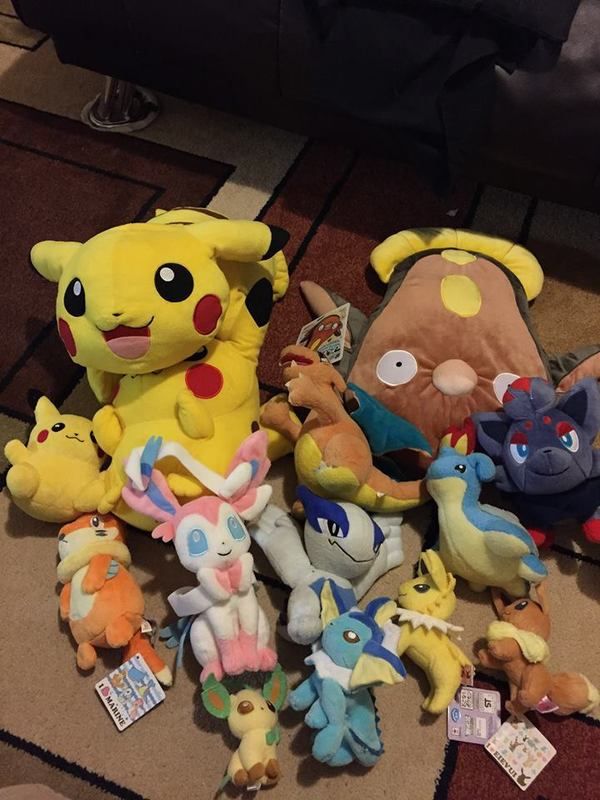 Paki paki (poseable) charizard: $30 OBO tto
Large takara tomy Laying pikachu with damaged hang tag: 40 OBO
Stunfisk cushion (non mint tag): $50 OBO
Takara tomy tto zoroa: $8
Tomy lapras tto: $12
eevee keychain MWT: $9
Jolteon keychain MWT: $10
Vaporeon canvas tto: $40
Takara tomy sitting sylveon (japanese version?): $11
I love marine buizle with tag: $12
mini leafeon pokedoll: $8
Banpresto lugia tto: $15
loose tail pikachu pokedoll 2010 japanese: $8
big pikachu under laying pikachu: $8




normal winking pikachu MWT (has a zipper in the back) x2: $10 each
takara tomy laying down pikachu plush tto: $7
normal sized :3 pikachu MWT: $10
Smaller pikachus: Winking is $7; Happy :D is $6 Sleeping tto is $7
Normal :D pikachu with the blue strap is MWT: $10
normal Sleeping Pikachu MWT: $15
DX winking pikachu: $15
Tomy Pikachu: $10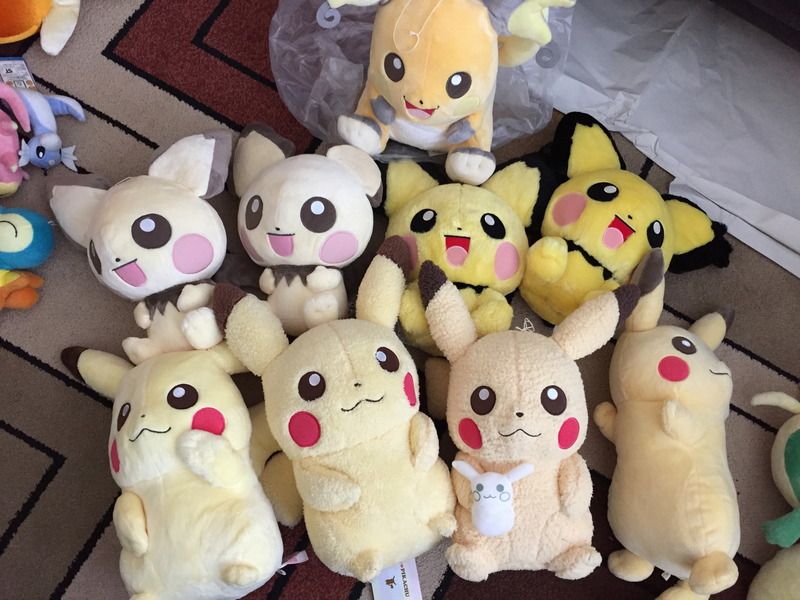 DX pichus MWT: $17 each (one has no hang tag: $14)
DX pikachus: $15 each (snowman, far left, and laying down one is tto)
DX Raichu MWT: $35



Starter Pokemon
New Takara Tomy Torchic (damaged box): $12
Fennekin MPC: $7 each
Tepig: $7 (has hang tag)
Regular Takara Tomy Torchics: $10(has all tags); $8 tto
banpresto torchic: $8
Ichibankuji charmander tto: $10
Charmander UFO tto: $10
Cyndaquill (tto): $7
banpresto regular standing fennekins MWT: $6 each
DX standing fennekin MWT: $12
Talking Snivy (has voice box but untested): $25 OBO
Banpresto bulbasaur (tto): $10
Squirtle MPC MWT: $7
Blastoise MPC MWT: $8
DX Chespins and Froakies MWT: $10 each




DX pumpkaboo (tto): $17
Zoroark (has a hole in a foot; has all tags): $13
Banpresto Starly: $15 OBO
Banpresto Meowth: $ 15 OBO
Banpresto Wobbuffett MWT x2: $11 each
Banpresto Deoxys: $10
DX Groudon (tto; excellent condition): $85 OBO
Meowth Pillow MWT: $20
Banpresto sleeping pikachu: $45 MWT; 40 tto
Ichiban Kuji A prize sleeping pikachu: $45 MWT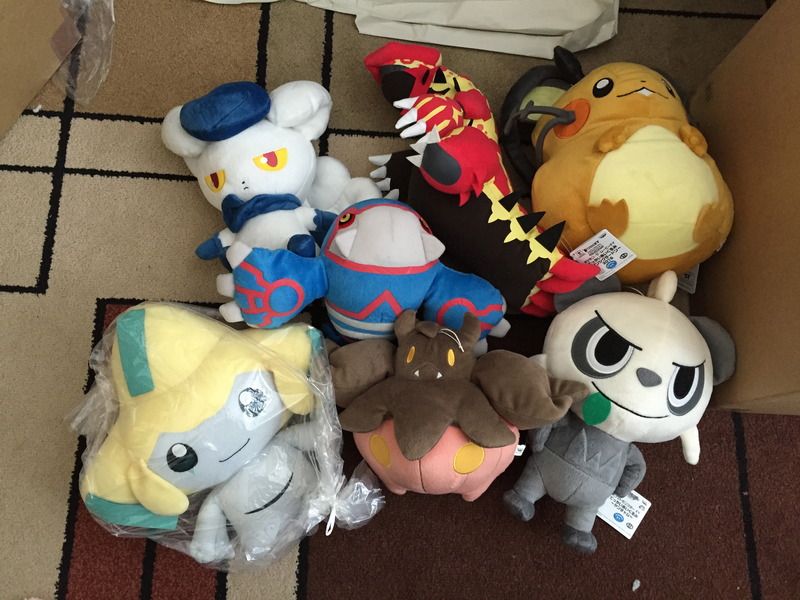 Banpresto Meowstic: $20 MWT
Banpresto Primal Groudon tto: $30 OBO
Banpresto Dedenne MWT: $25
Banpresto kyogre tto: $35 OBO
Team Rocket Pumpkaboo MWT: $20
Banpresto Pancham MWT: $17
Banpresto large jirachi: $25 OBO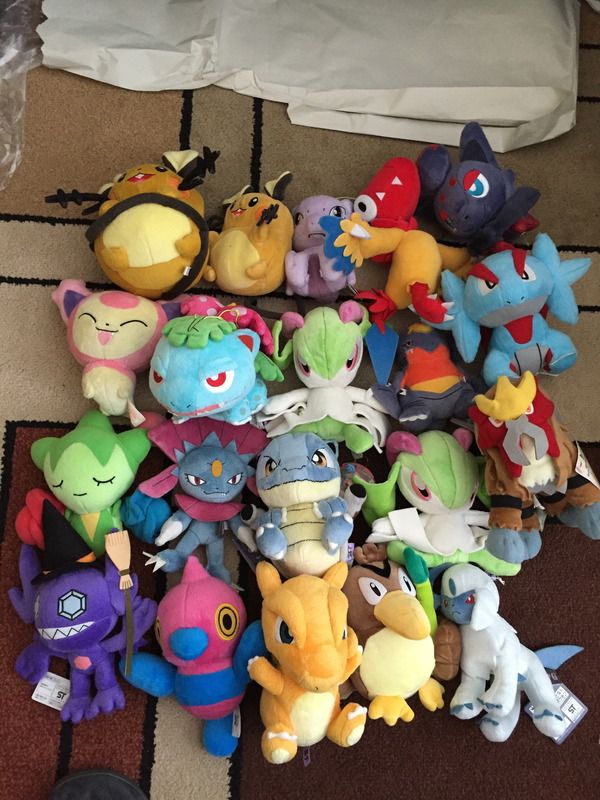 Takara tomy Dedenne: $10 tto
Bonnie's dedenne (no bag): $10 OBO
Mewtwo MWT: $7
Zoroa MTW: $7
Archen tto: $15 OBO
Skitty Tto (jingles): $25
Kawaii Venusaur (tto): $35
Banpresto Kirlia (tto is $40; hang tagged one is $45) OBO
Banpresto Garchomp (tto): $25 OBO
Banpresto Entei (cloud has a stain and the mustache is splitting; has hang tag): $20
Banpresto Roselia (tto): $30
I love Gothic Weavile (hang tag is not mint): $30 OBO
Kawaii Blastoise (tto): $25
Halloween Sabyleye MWT: $35
Porygon z (tto): $30 OBO
Kawaii Charizard (tto): $42
Banpresto farfetch'd: $30? OBO
I love Gothic absol: $40



I love eevee standing keychain set (tto) WILL NOT SPLIT!: $56



I love eevee standing keychain set (eevee and leafeon tto, others are MWT) WILL NOT SPLIT: $65



DX Vaporeon MWT: $27
DX Vaporeob tto: $24
Vaporeon Kotoro MWT x2: $15 each
MWT standing Vaporeon Keychain: $10
Sitting Vaporeon trump card plush MWT: $15
Jp Pokemon Center Standing Vaporeon plush tto: $12
regular Sitting Vaporeon MWT: $11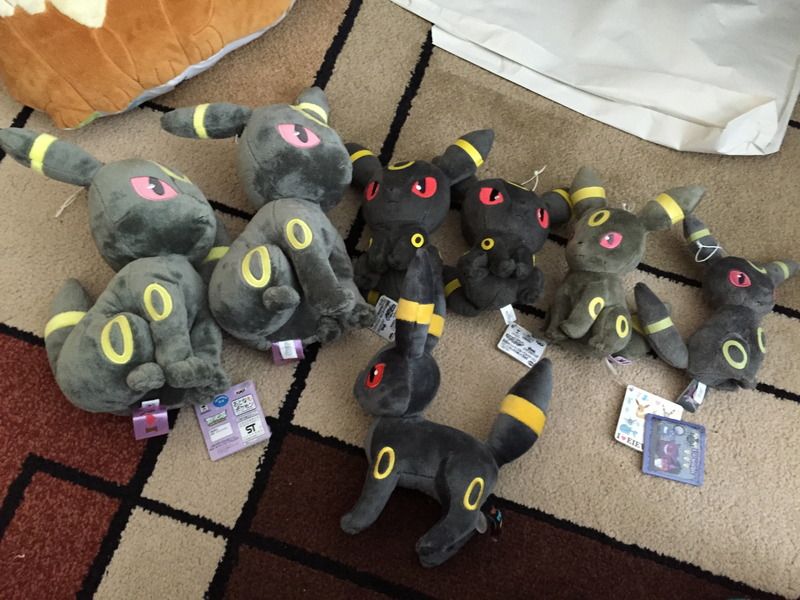 DX Umbreon MWT: $26
DX Vaporeon tto: $23
Umbreon kotoro MWT x2: $18 each
regular Sitting umbreon MWT: $12
Gothic Umbreon MWT: $20
Standing Jp Vaporeon tto: $12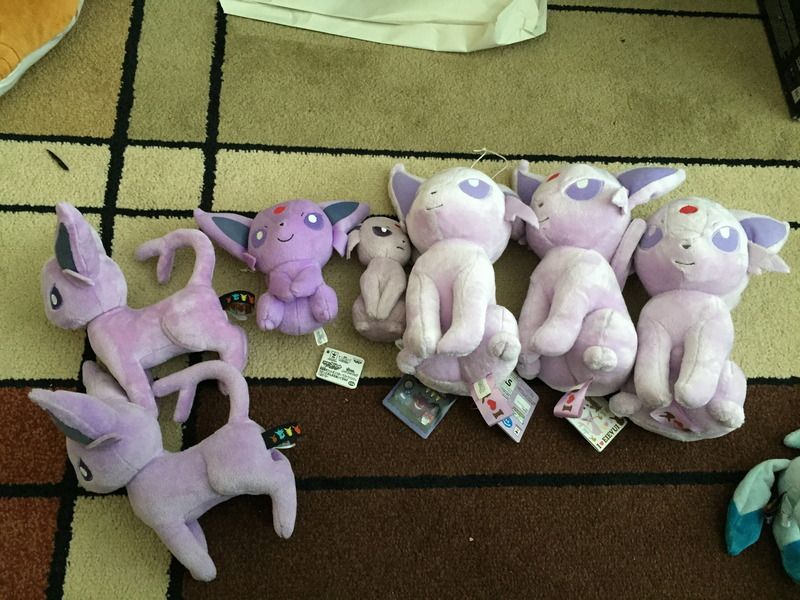 standing Jp PC espeon x2: $12 each
Espeon kotoro MWT: $16
I love gothic espeon MWT: $20
DX Espeon MWT x2: $26 each
DX Espeon tto: $23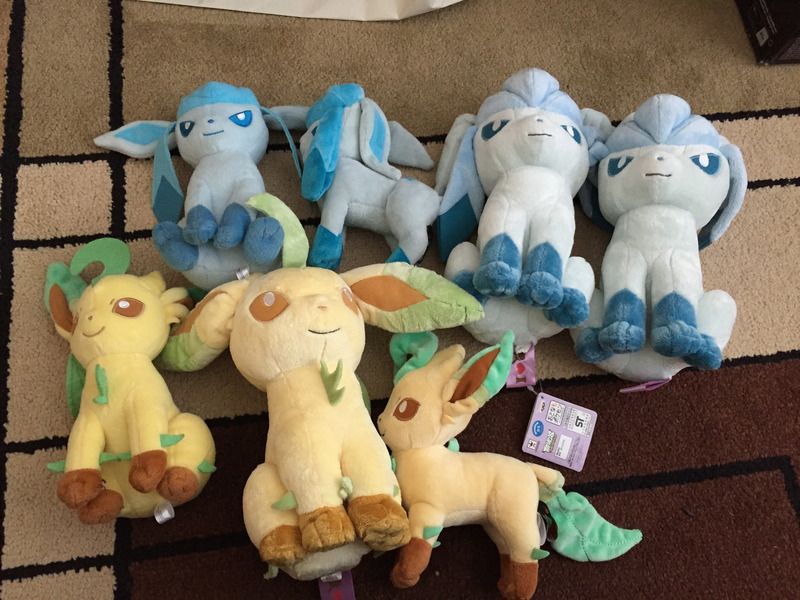 Sitting takara tomy Glaceon and Leafeon (tto): $10 OBO each
Standing Jp PC glaceon and Espeon: $12 each
DX MWT Glaceon: $25
DX Tto glaceon and leafeon: $22 each



DX Jolteon tto: $22
DX jolteon MWT: $25
Jolteon kotoro MWT: $15
Standing jolteon PC jp tto: $12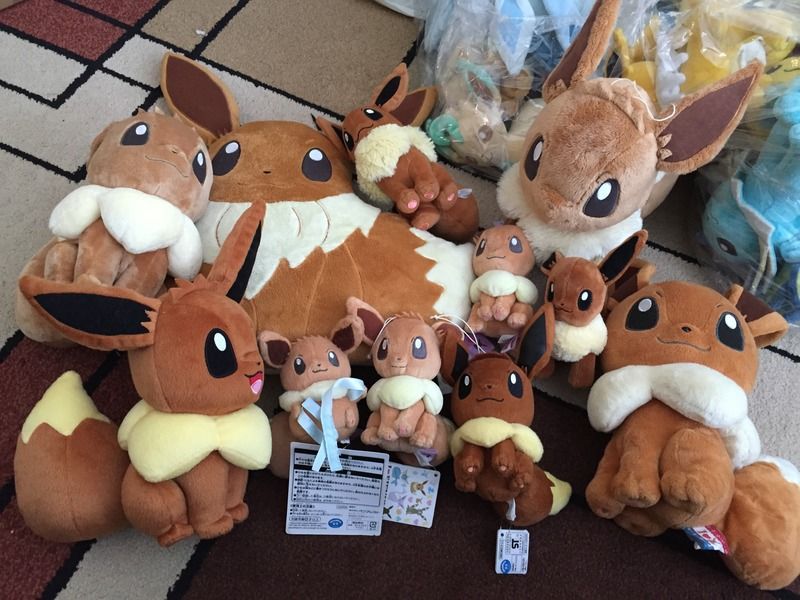 DX I love eevee Eevee MWT: $17
DX Banpresto Movie Eevee (tto): $15
Curtain holder Eevee MWT: $8
regular Sitting eevee MWT: $10
eevee kotoro MWT: $15
Standing eevee jp PC tto: $12
Turning head eevee banpresto Plush (tto): $17
Sitting takara tomy eevee (tto): $10 OBO
Eevee Cushion MWT: $25 OBO
HQ Eevee MWT: $45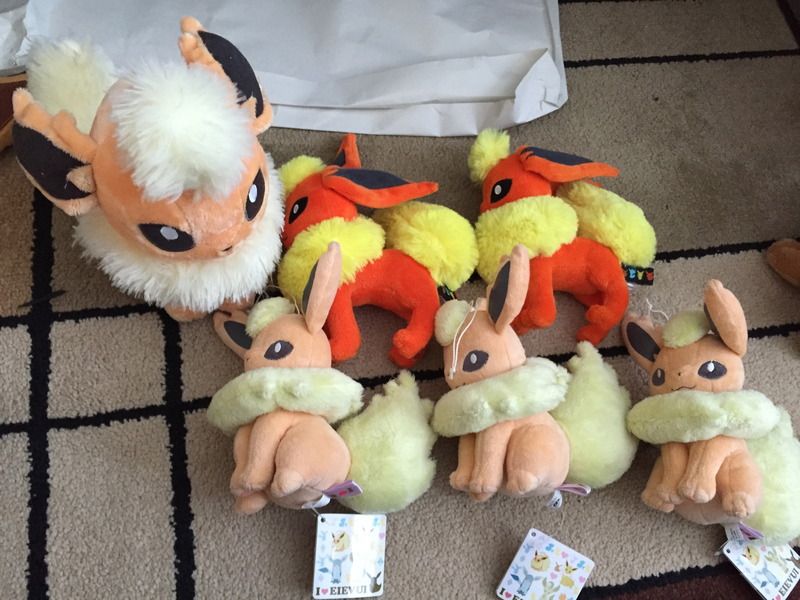 DX flareon tto: $22
Standing PC jp flareon tto: $12 each
Sitting flareon MWT: $10 each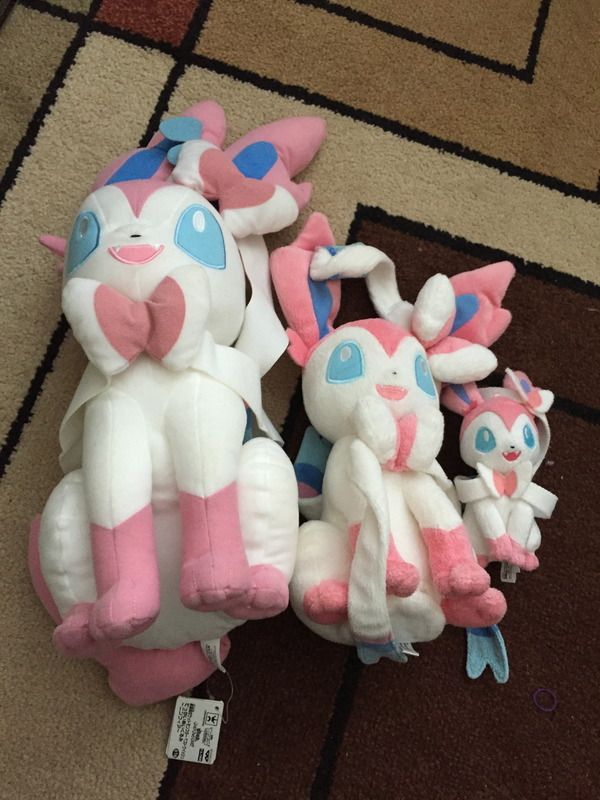 Namco Sylveon MWT: $65 OBO
Talking sylveon (no longer has voice box): $20? OBO
Sylveon MPC tto: $15 OBO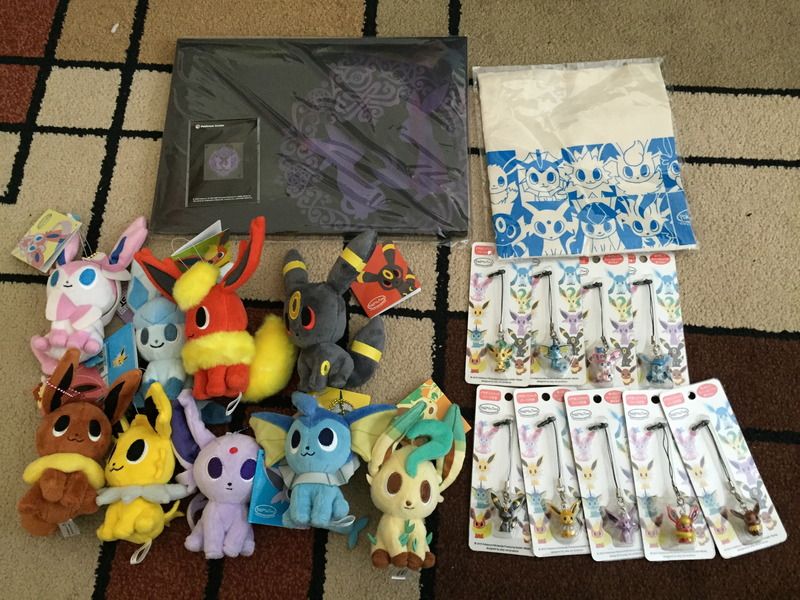 Pokemon Time eeveelutions MWT (WILL NOT SPLIT UNLESS MULTIPLE INTEREST): $125 for set
MIP Pokemon Time eeveelutions phone strap set: $95 for the set
Pokemon time eeveelutions tote bag: $10
Umbreon Espeon file folder MIP: $35 OBO
Umbreon Espeon sticker MIP: $15 OBO



CANVASES (ALL TTO EXCEPT BULBASAUR AND AUDINO)
Riolu: $15
Pachirisu: $13
Piplup: $9
Bulbasaur: $20
chimchar: $9
Starly: $9
Cyndaquil: $15
Jolteon: $40
Oshawott: $10
Squirtle: $15
Charmander: $17
Tepig: $9
Snivy: $10
Victini: $18
Audino: $20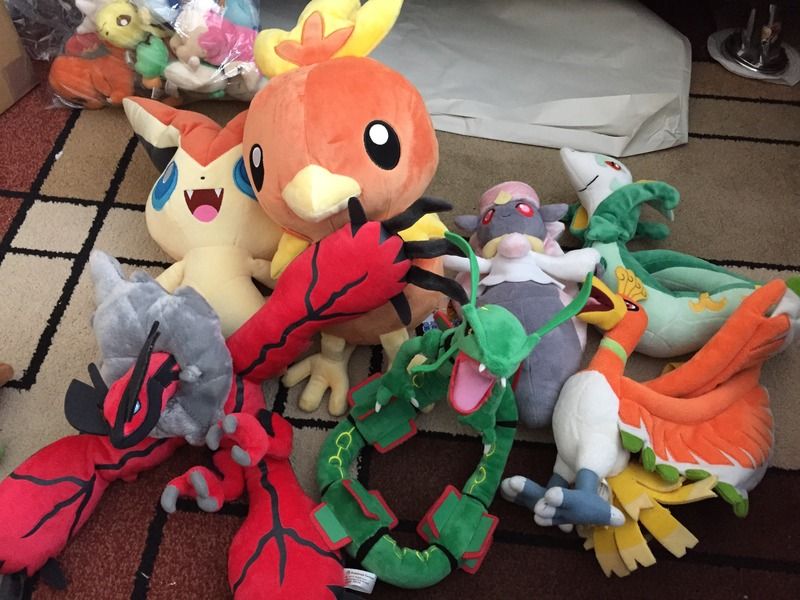 1:1 Victini: $60 OBO
1:1 Japanese Torchic: $50 OBO
Jp Yveltal (tto): $27
Jp PC rayquaza (tto): $27
Jp PC tto Ho-oh: $25
jp Pc Diancie (tto): $27
Jp Pc tto Serperior (tto): $27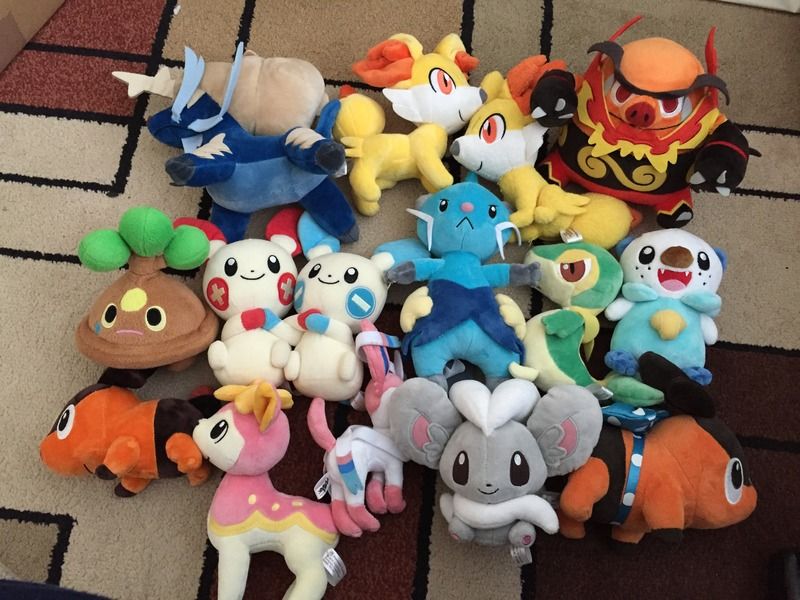 Oversized Samurott Pokedoll (tto): $30
oversized emboar pokedoll (tto): $27
Bonsly pokedoll tto: $15
PC plushle and minun (magnet hands; prefer not to split the two) tto: $25 for set
Pc Dewott (one arm is loose) tto: $7
PC snivy tto: $5
PC oshawott tto: $7
PC tepig tto: $5
PC deerling tto: $8
Happy party time Sylveon (no longer has keychain and tush tag is written on): $12 OBO
Ciccino pokedoll: $15
Osaka Tepig (tail is uncoiled): $25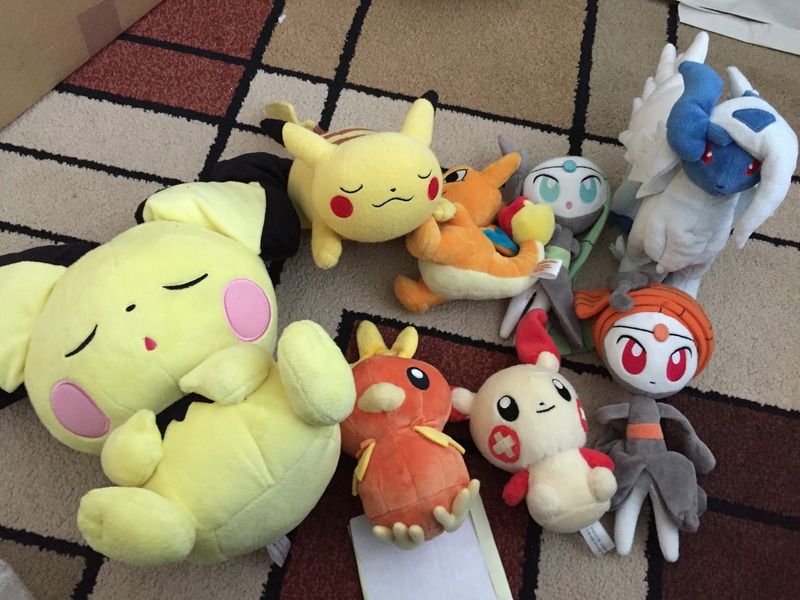 1:1 sleeping pichu tto: $100
Pokepark sleeping pikachu: $10 OBO
charizard 2013 pokedoll: $20
PC meloettas tto: $10 each
Plusle pokedoll tto: $15
torchic jp PC plush MWT: $13
Mega absol (japanese version; tto): $25 OBO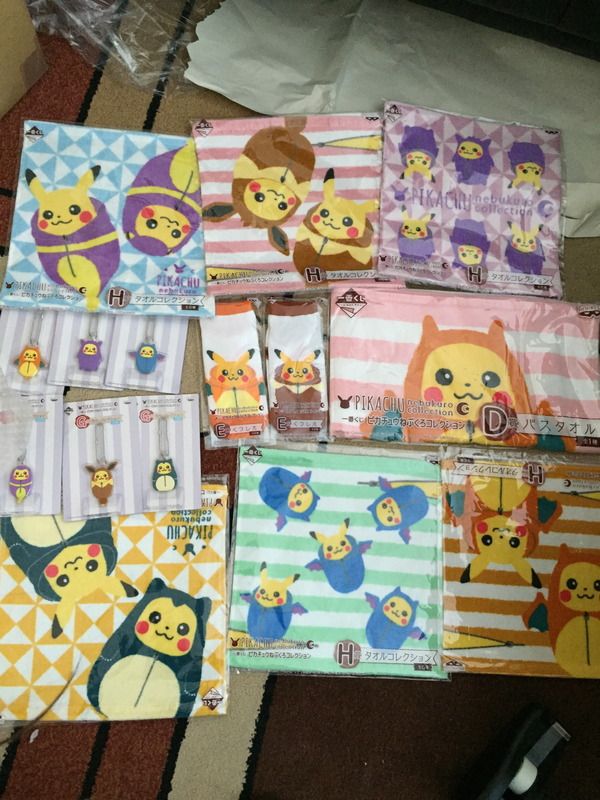 Ichiban kuji towels: $6 each
Ichiban kuji keychains: $7 each
Ichiban kuji socks: $10 each
Ichiban kuji pikazard bath towel: $20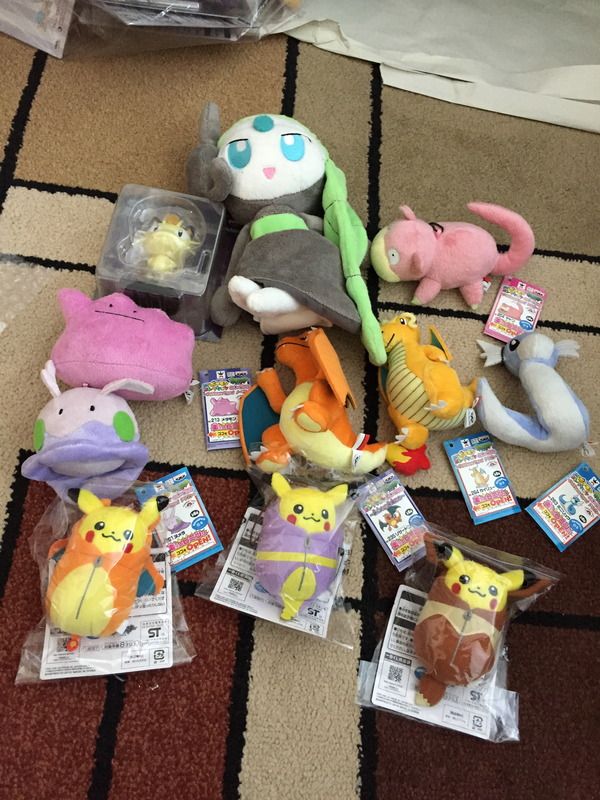 Talking meloetta (no voice box): $15
Slowpoke MPC, dratini, goomy, charizard MPC MWT: $15 each
Ditto MPC MWT: $12
Dragonite MPC MWT: $17
Ichiban Kuji Meowth MIB: $7
Ichiban kuji pikachu plush straps: $15 each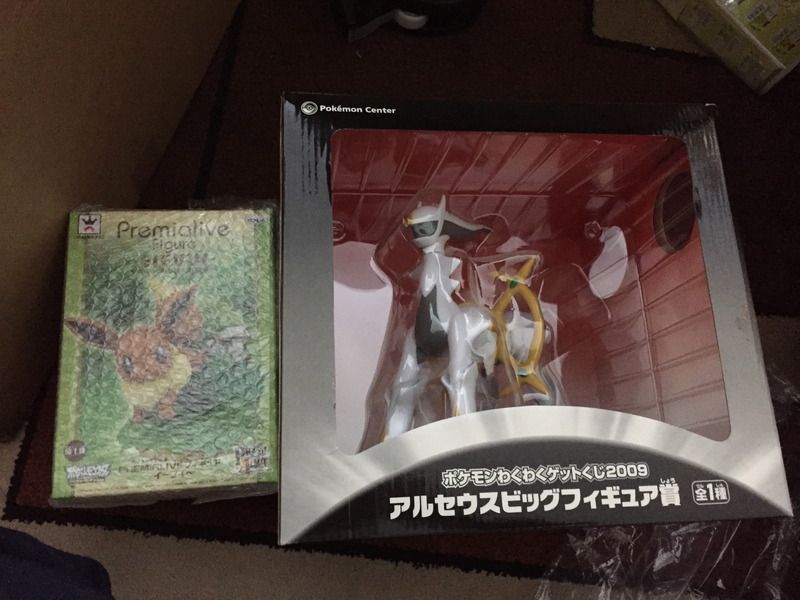 Premalive Eevee figure MIB: $25 OBO
Ichiban Kuhi Large Arceus Figure: $40 OBO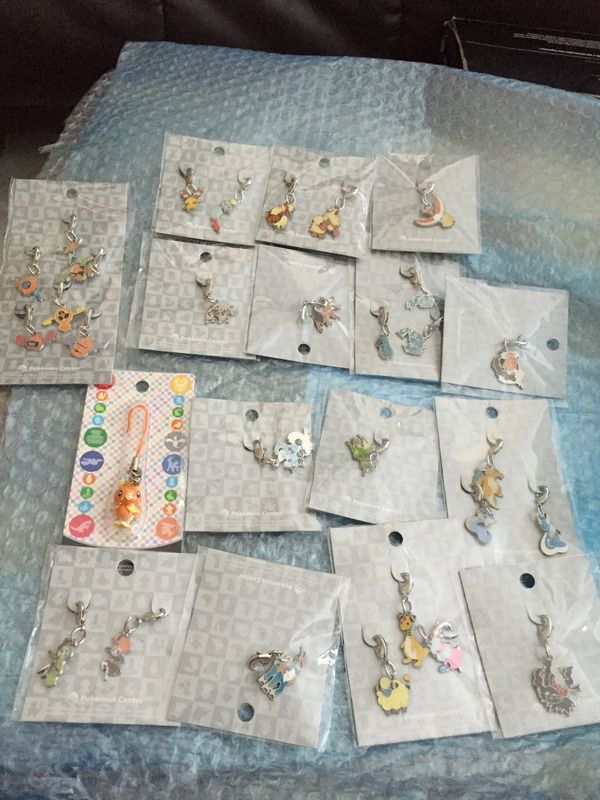 Rotom Charm set: $30
Chingling charm set: $10
Arcanine charm set: $12
Ho-oh: $6
heatran charm: $5
tauros: $6
Metagross line: $15
Landerus: $5
Torchic PC strap MIP: $9
thunderus: $5
Virizion: $5
Dragonite line: $15
Meloetta Line: $10
cobalion: $5
Ampharos Line: $17
Darkrai: $7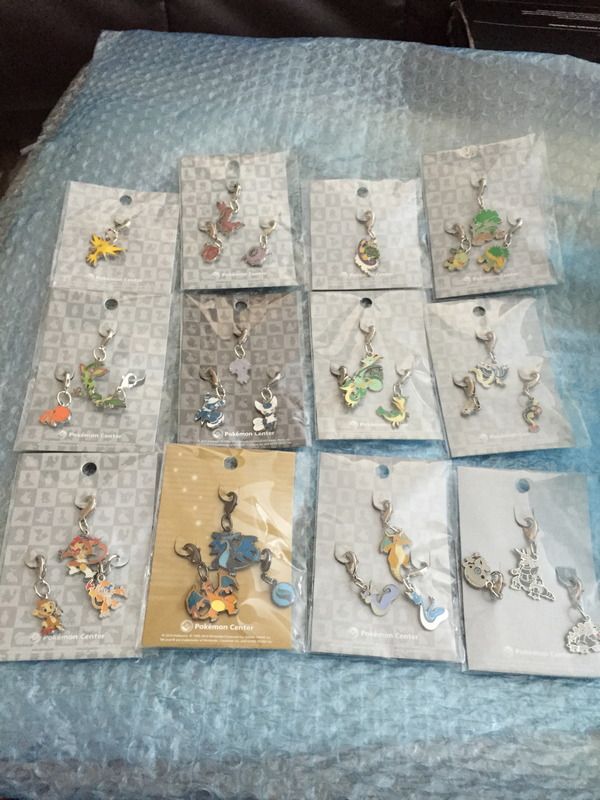 Zapdos: $6
Scolipede line: $15
Tornadus: $5
turtwig line: $15
Flygon Line: $20
Meowstic Line: $12
Snivy Line: $15
Elektross line: $15
Chimchar line: $15
Charizard mega: $10
Dragonite line: $15
Agron line: $17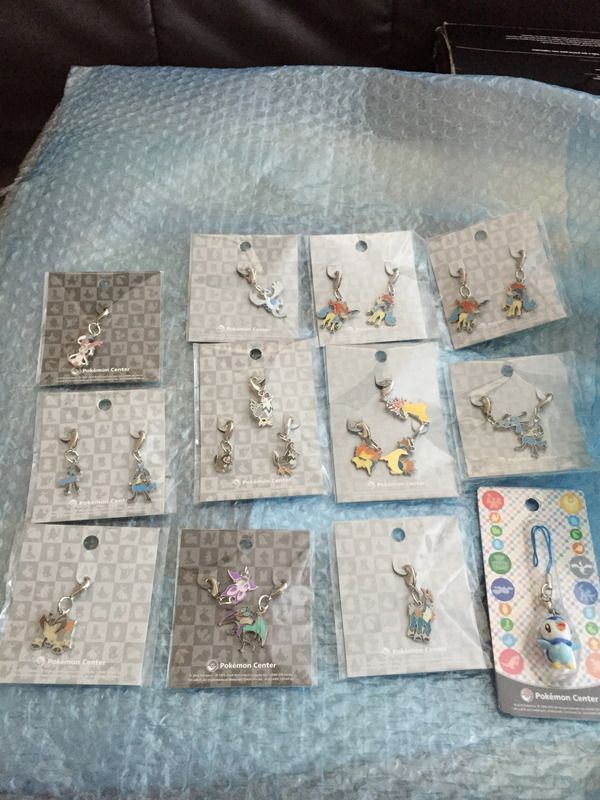 Sylveon: $6
Lugia: $8
keldeo line x2: $10 each
lucario line x2: $10
Starly line: $15
Typhlosion line: $20
terrakion: $5
Noivern line: $10
Cobalion: $5
Piplup PC strap: $9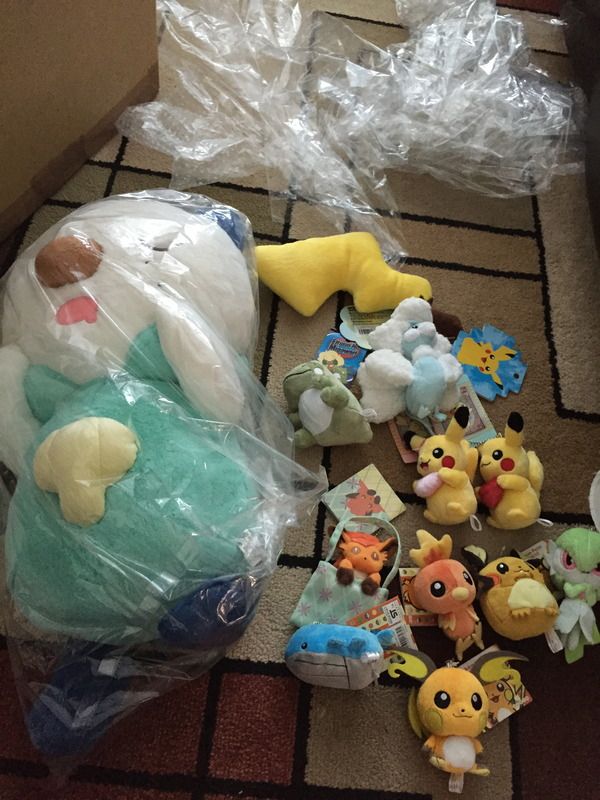 New years sleeping oshawott (in near mint condition): $120
Pikachu tail: $20
Mega Altaria: $20 MWT
Vulpix Keychain Plush MWT: $20
Petit plushes: $13 each all mwt Jp version (Gardevoir is $20)
Pikachu heart keychain plush MWT: $25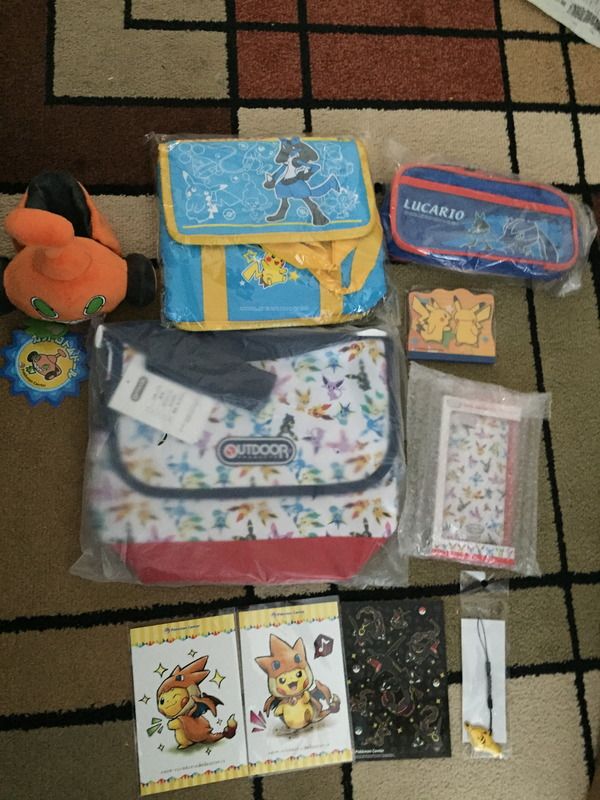 2013 Rotom mow pokedoll (tag has a rip): $20 OBO
Lucario lunch bag Mip: $15 OBO
Lucario Pencil Case: $10 OBO
Outdoor pokemon time eeveelutions shoulder bag: $95 (what I got it for)
Pokemontime iphone 6 eeveelutions case: $28
Dittochu/pikachu notepad MIP: $10 OBO
Pikazard Post cards: $5 each
sleeping pikachu phone strap: $8
Shiny Rayquaza sticker sheet: $10 OBO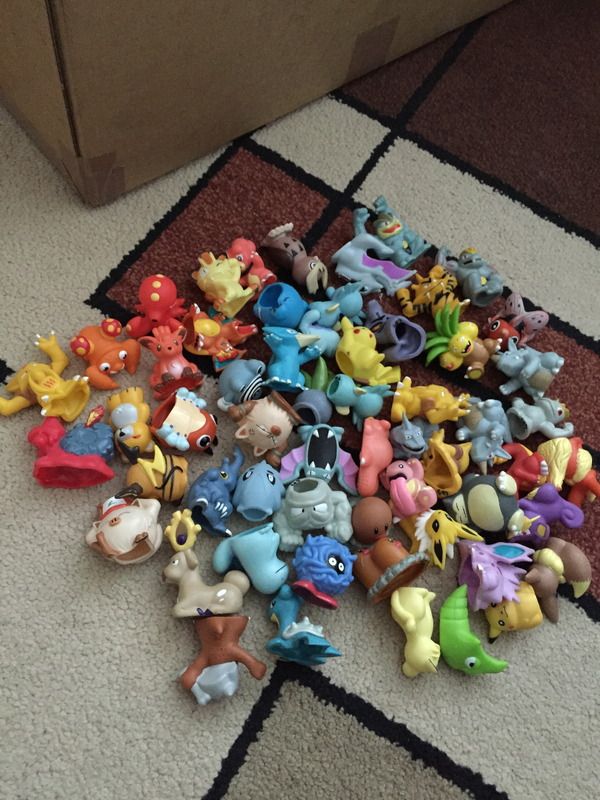 Kids Lot (has a name written under most of them): $30 OBO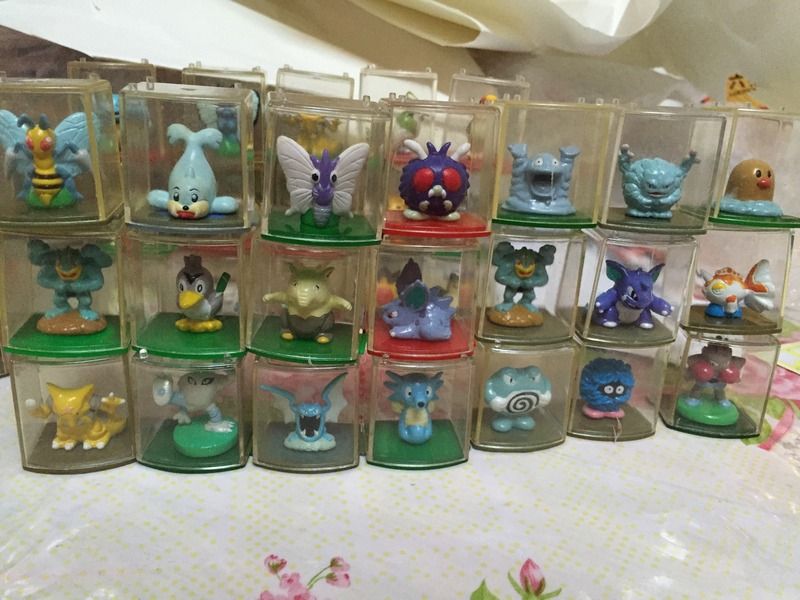 In-case figures: $5 each OBO (some of them cannot stack anymore/have loose plastic cases)



In-case figures: $5 each OBO (some of them cannot stack anymore/have loose plastic cases



Mini chupa/various candy figure lot: $25 obo



Raikou Chupa: $20 OBO
Amphoras Zukan Piece: $10 OBO
Mareep Zukan piece: $10 OBO
Noivern Chupa figure: $10 OBO
eevee chupa figure: $8 OBO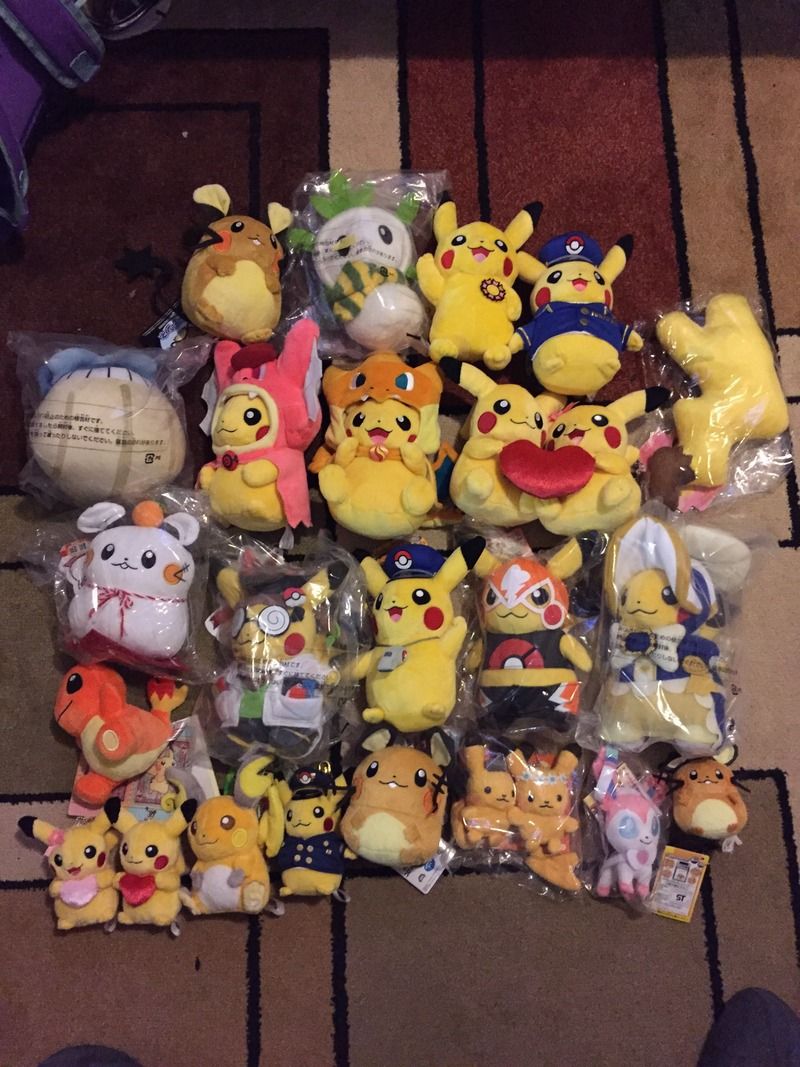 PC Dedenne Japanese version MWT: $20
Xmas Snowman chespin MWT: $25
Tohoku Pikachu (ribbon one) (near mint tag/may have a minor crease): $25
Tokyo station Pilot pikachu plush (hang tag has a crease): $30
Secret Base Wailmer MWT: $25
Shiny Pikados (near mint tag/minor crease): $40 (what I paid for it)
Original Release Angry Pikazard MWT: $45
PC Pikapair with heart MWT: $45
Female pikachu tail keychain MWT: $20
New Years Dedenne MWT: $25
Japanese Scientist female pikachu MWT: $25
Pikachu Tokyo Station Master (whistle) (Near mint tag/has slight crease): $25
Japanese Female Wrestler Pikachu MWT: $25
Japanese Colonial Pikachu MWT: $25
Pikachu pair (with hearts) keychain plush MWT: $25
Raichu Canvas (tush): $35
KIX Pilot Pikachu Keychain Plush MWT: $20
Banpresto Dedenne MWT: $15 OBO
Little tales Pikapair mascot pLush MWT: $20
Petit Sylveon MWT Japanese version: $15
dedenne MPC MWT: $10
Charmander pokedoll MWT (newest JP version): $18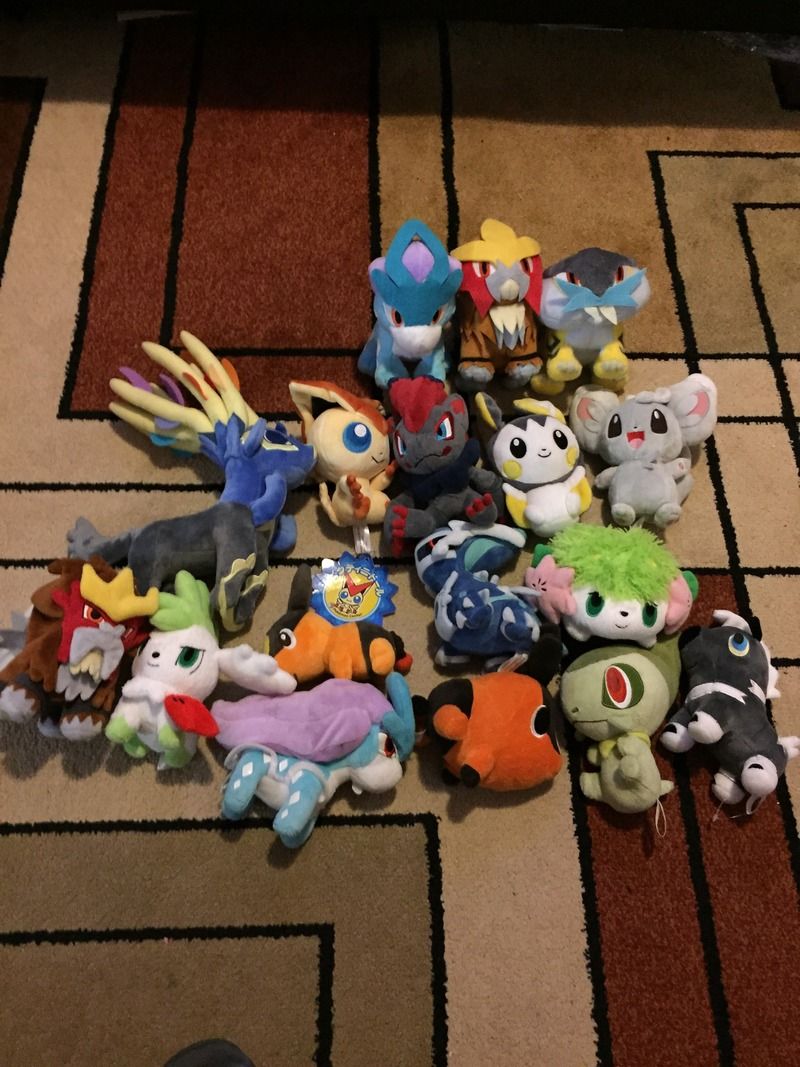 Banpresto AUTHENTIC Beast trio MWT: $60 for set
jp Xerneas Pokedoll (tush): 30 OBO
Jp Victini pokedoll (ripped hang tag): $18
jp zoroark pokedoll (tush): $15
jp emolga pokedoll (tush): $15
Jp minccino Pc plush (tush): $6
jp Entei Pokedoll (tush): $30
jp Skymin Pokedoll (tush): $15
jp Suicune pokedoll (tush): $30
jp tepig pokedoll (tush): $15
Jp axew pokedoll (tush): $15
jp dialga pokedoll (plastic on head cracked): $10
jp landmin pokedoll (tush): $15
jp blitzle pokedoll (tush): $15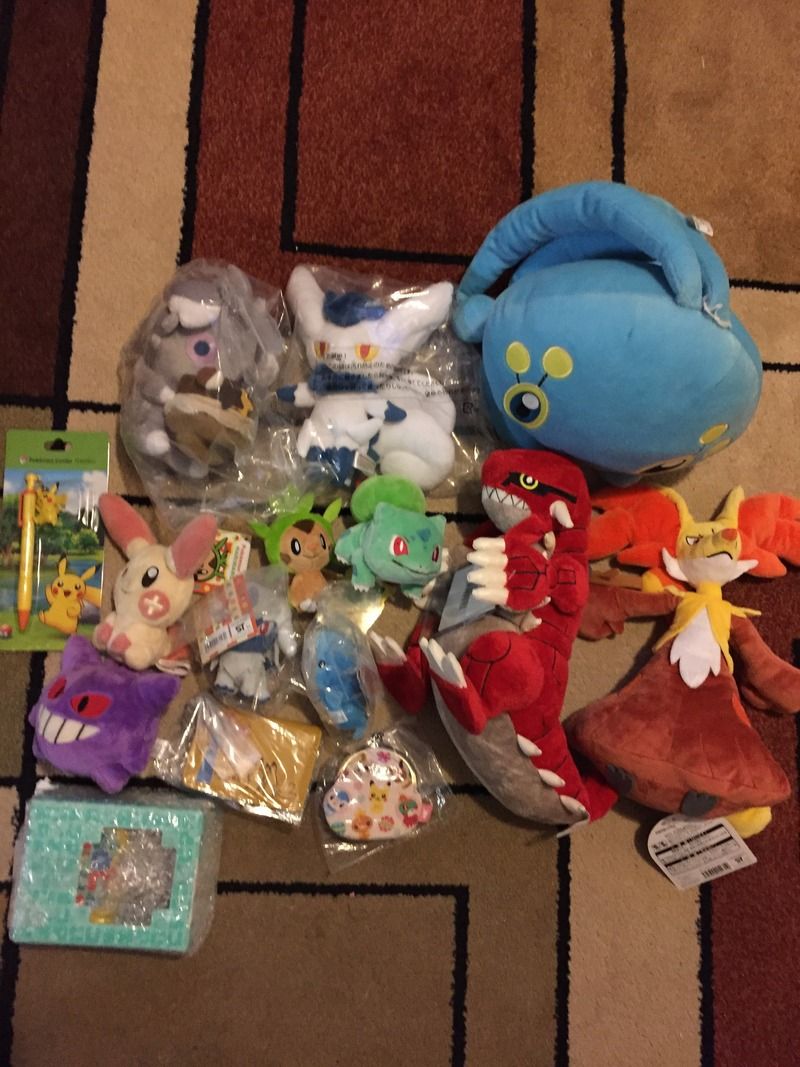 WANTED espurr pokepuff plush MWT: $30
jp meowstic PC plush: $14
Banpresto Lying down manaphy: $15 OBO
JP PC delphox pc Plush MWT: $25
Bulbasaur canvas MWT: $18
Groudon on hold
jp Petit Chespin MWT: $13
jp Petit wailord MWT: $15
jp petit absol MWT: $15
Plusle canvas (tush): $35
Gengar pokedoll (tush): $50
Tohoku Pikachu Pencil: $12
Coin purse: $20
Little tales pikachu passcase: $25
Pikachu Tail Mug Brand new in package: $45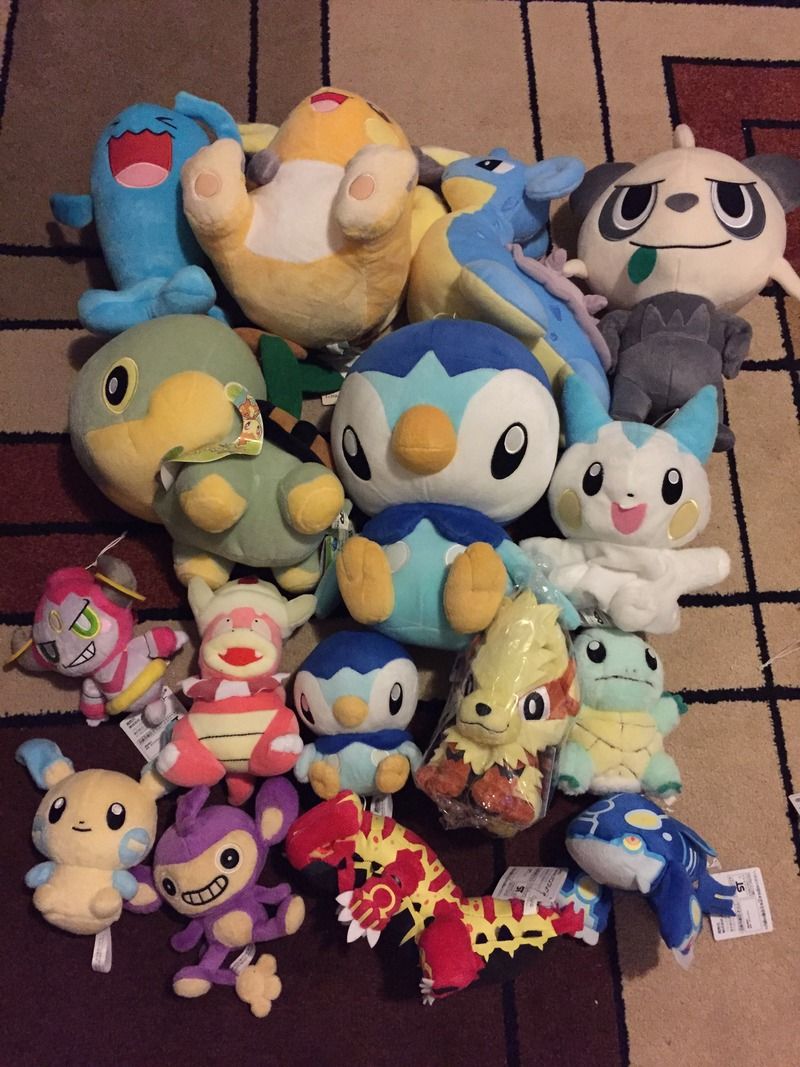 Banpresto DX Wobbuffet MWT: $15
Banpresto DX raichu MWT: $35
Banpresto Lapras MWT: $25
Banpresto DX pancham MWT: $20
Banpresto Large turtwig MWT: $15
Banpresto Large Piplup (tush): $13
pachirisu puppet: $10
Banpresto Hoopa MWT: $12
Banpresto Slowking (tush): $20
banpresto small piplup (tush): $5
MWT Banpresto Arcanine: $140
Tomy Fuzzy Squirtle: $10
Minun pokedoll: $15
2002 Aipom pokedoll (tush): $50
Banpresto primal groudon and Primal Kyogre: $16 each



I love eevee head cushion (tush): $20 OBO
I love eevee laying eevee plush (tush): $60 OBO
Banpresto DX Umbreon (tush): $22
Banpresto DX Vaporeon (tush): $25
Banpresto HQ Eevee (tush): $38
Sitting Tomy Leafeon and Espeon MWT: $15 each
Banpresto MWT Kototo Leafeon: $15
I love eevee sitting jolteon (tush): $10
Umbreon MPC (tush): $10
Banpresto Espeon Kototo: $13
Banpresto Umbreon Kototo MWT: $17
Espeon 2002 pokedoll: $35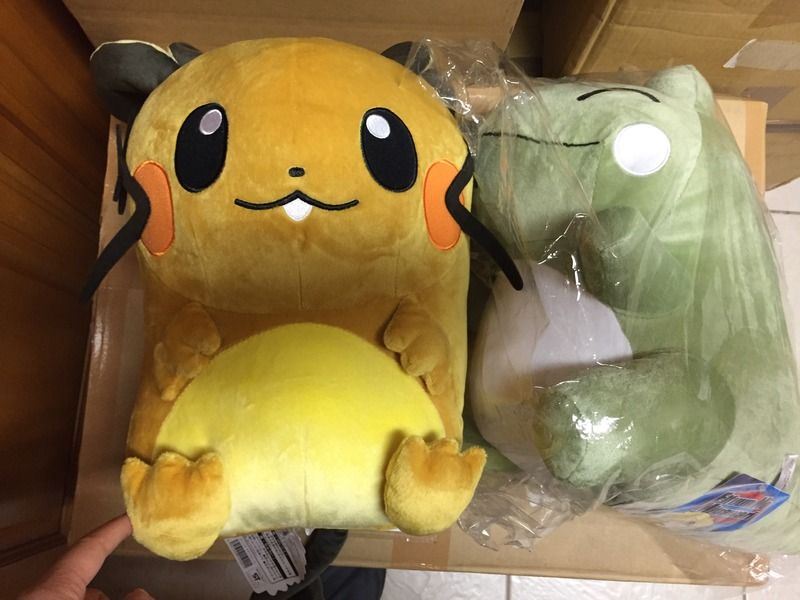 DX dedenne Pokedoll (Near mint tag/has slight crease): $40
Japanese 12 Inch Substitute MWT: $38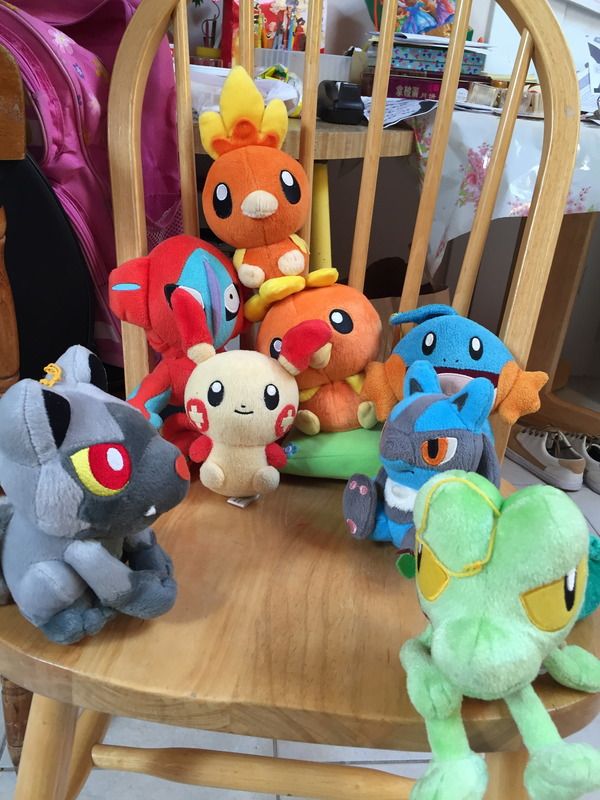 Banpresto poochyena (tush): $50
Banpresto Sitting Treeko (made to sit on somewhere; tush): $15
Lucario Pokedoll (2005 jp; tush): $30 OBO
Plusle pokedoll (jp tush): $15
Banpresto deoxys (tush): $10
banpresto upper torhic (tush): $8
Banpresto (supposed to move but doesn't work anymore) Torchic at the bottom: $10
Banpresto loved mudkip (tto): $7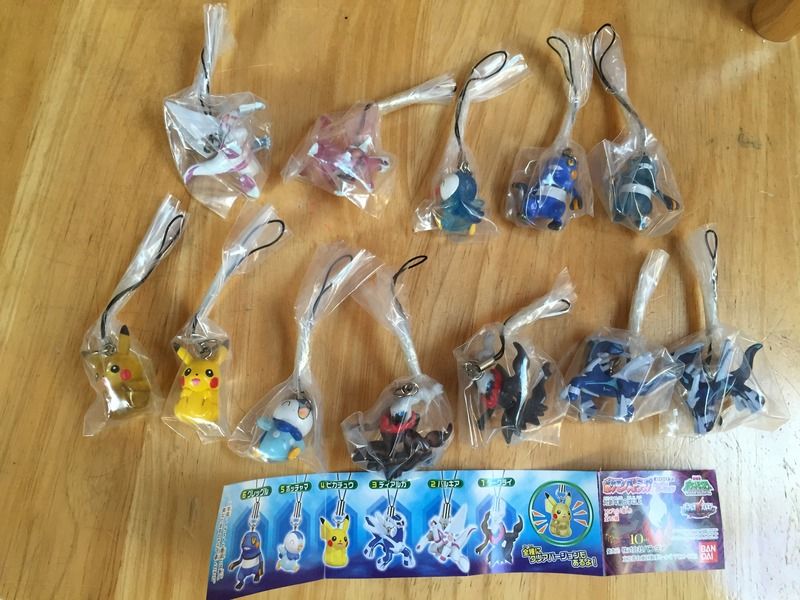 Clear darkrai, clear palkia, and darker colored dialga: $5 each
Clear piplup, clear croagunk, darkrai, dialga, and palkia straps: $3 each
rest are $2 each



Pencil Toppers
Mew, sceptile, mewtwo, lucario, blaziken, swampert, kyogre, sceptile: $5 each
Munchlax, ghastly: $3 each
tropius: $4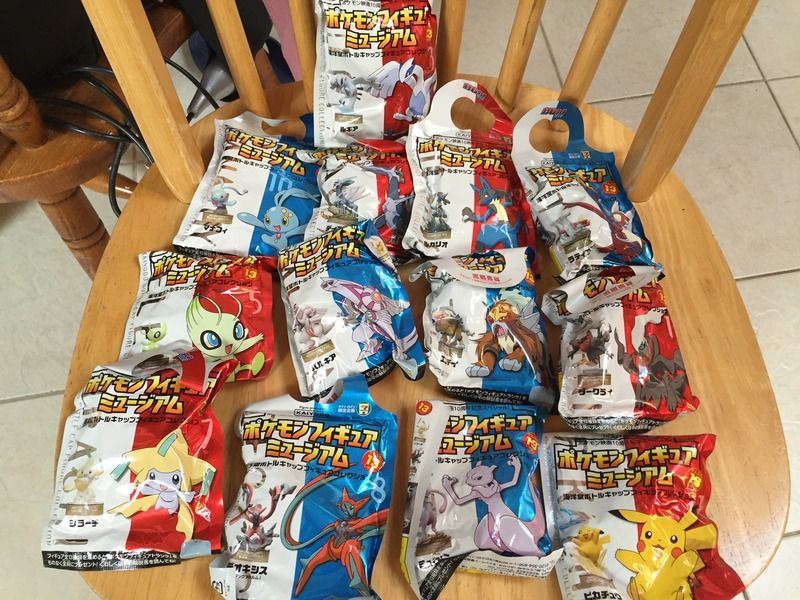 Bottlecap figures MIP
Lugia, latias: $11 each
entei, jirachi: $9 each
Lucario, darkrai, palkia, dialga, manaphy, celebi, deoyxs, mewtwo: $7 each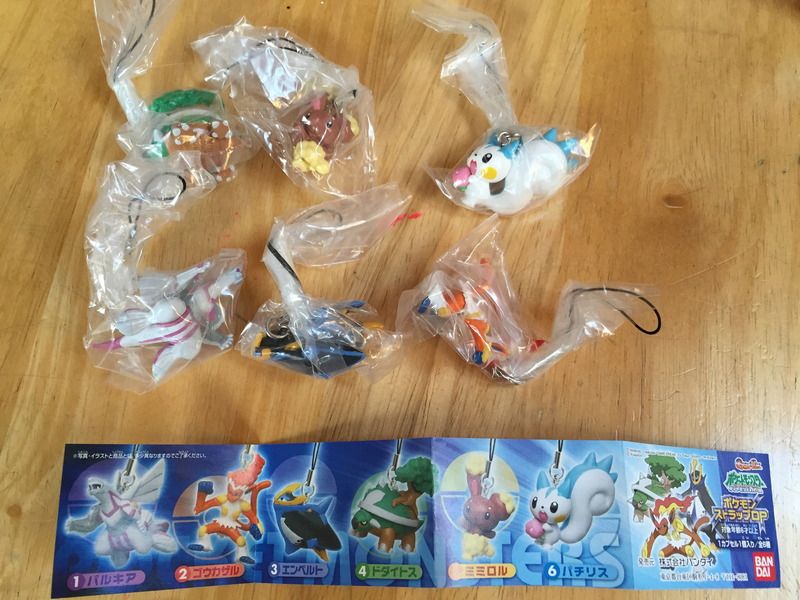 Pachirisu: $5
rest are $3 each



Connectable Versus Figures
Rayquaza: $15
Deoxys, blaziken, torkoal, blastoise: $10 each
Pikachu: $6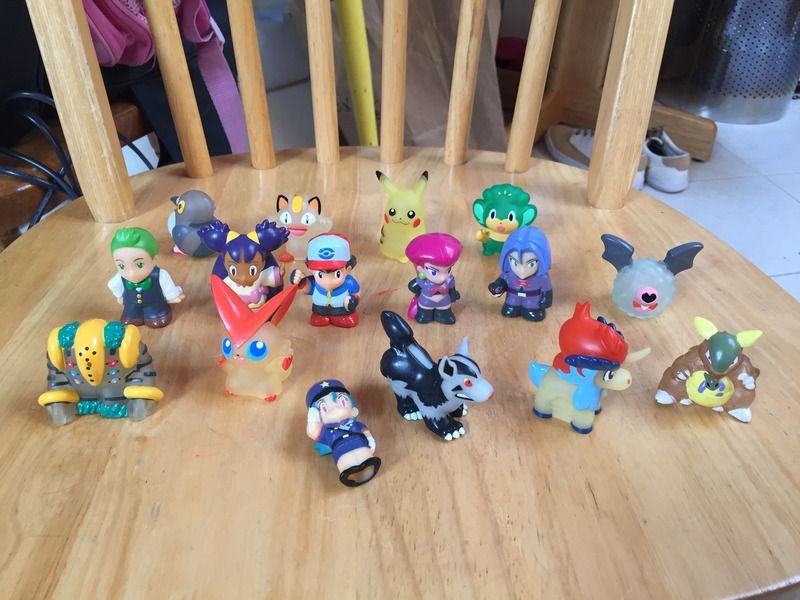 Special Kids
Clear Victini, Keldo, mightyena, humans: $5 each
rest clear kids are $3 each



RED/Oranges
Rapidash: $2.50
Moltres, groudon, vicitni, ho-oh: $3 each
Volcarona, meloetta, keldeo, archen: $2 each
rest is 1.50 each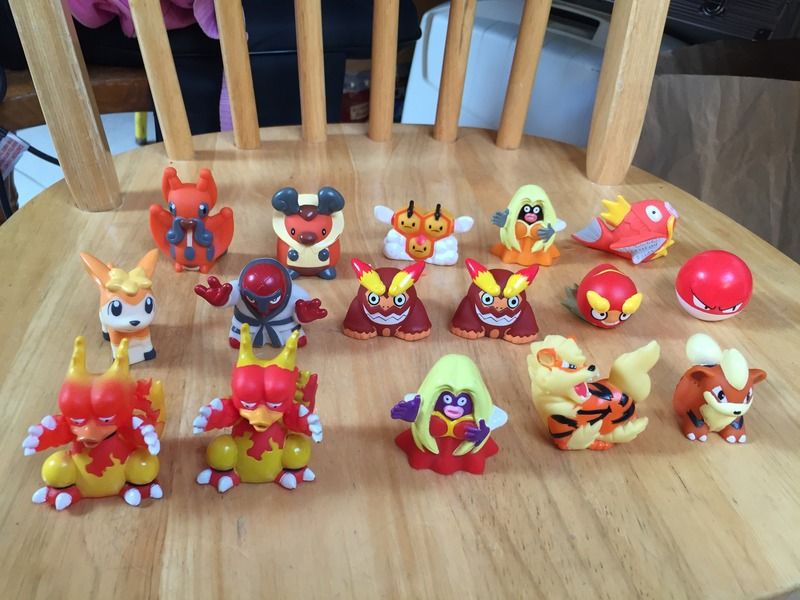 RED/Oranges
Arcanine, growlithe: $3 each
rest are 1.50 each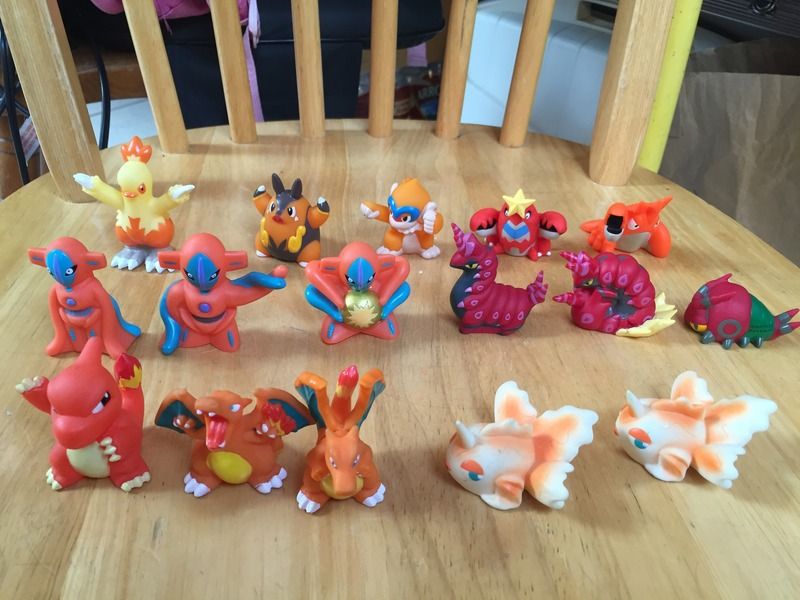 RED/Oranges
Charmeleon: $2.50
Charizards: $3 each
Deoxys: $2 each
rest are 1.50 each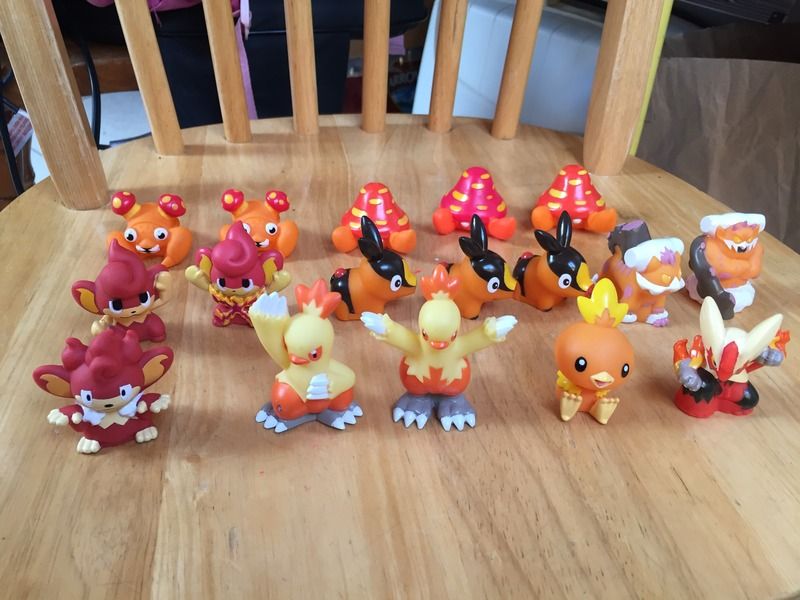 RED/Oranges
Landorus $3 each
Mega Blaziken: $5
Torchic: $2
rest is 1.50 each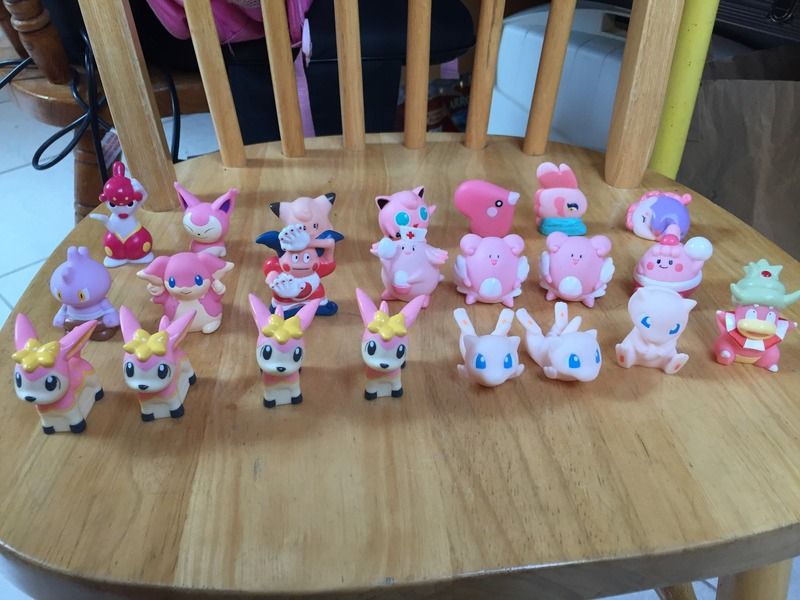 Pink
Skitty, Singing jigglypuff, nurse chansey, audino: $2.50 each
Mew $4 each
rest are 1.50 each
Deerling $1 each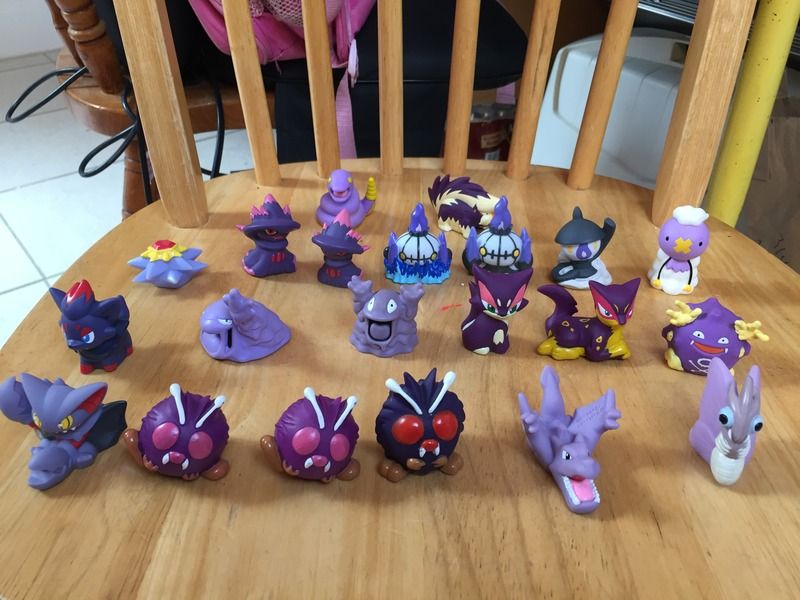 Purple
Aerodactyl: $4
Purrloin, lieperd, driftloon, lampet, zoroa: $2 ach
Mismagius, chandelure: $2.50 each
Rest 1.50 each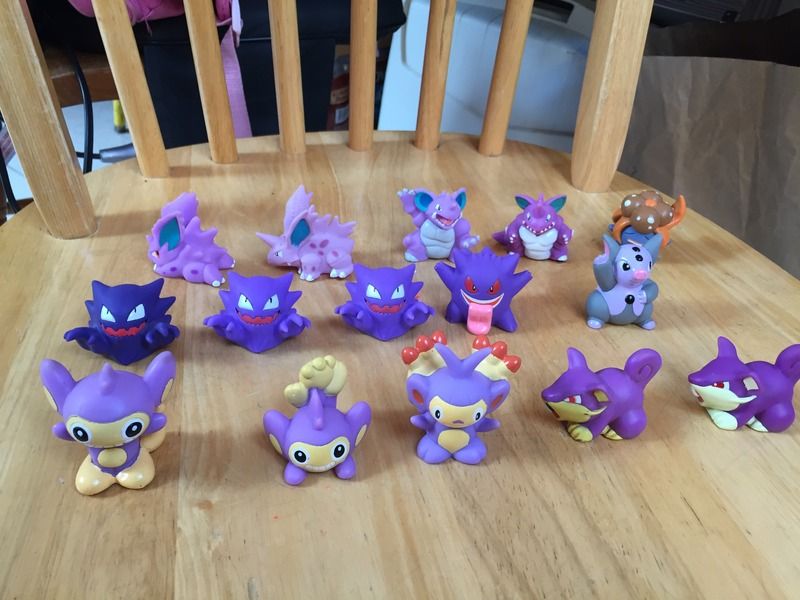 Purple
Gengar, haunters $3 each
nidoking line, lying down aipom: $2 each
rest are 1.50 each



Blue
Glaceon, shinx, menetric $3 each
Nidoqueen: $2
rest are 1.50 each



Blue
Dragonair: 2.50
squirtle, sharpedo, mantine: $2 each
rest are 1.50 each



Blue
Megagross: $3
Blastoise, wartortle, totodile, wishcash: $2.50 each
Elekross: $2
rest are 1.50 each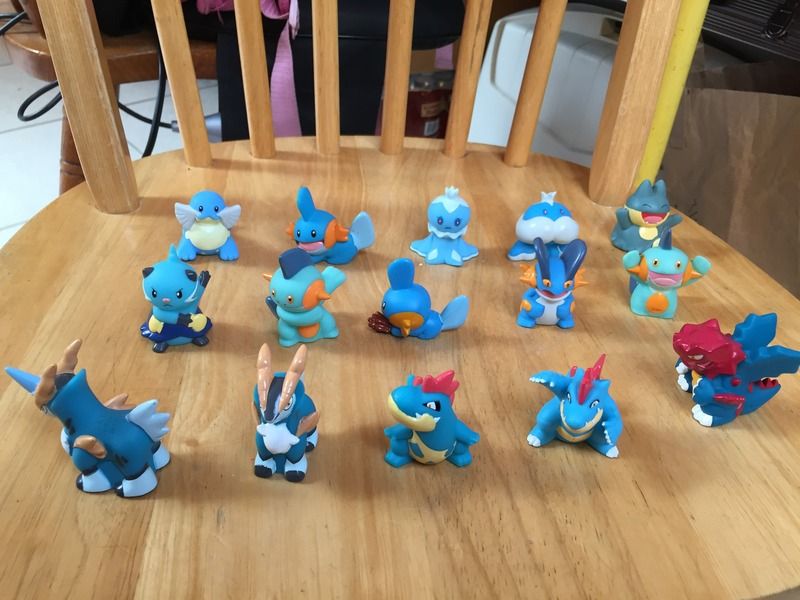 Blue
Cobalion, Feraligatr, swampert : $3 each
Crockanaw, mudkip, marshtomps: $2.50 each
Drudiggon: $2
rest are $1.50 each



Blue
Latios, suicune: $5 each
Articuno, tornadus, kyogre: $3 each
DX Cresselia, DX Samurott: $5 each
rest are $2 each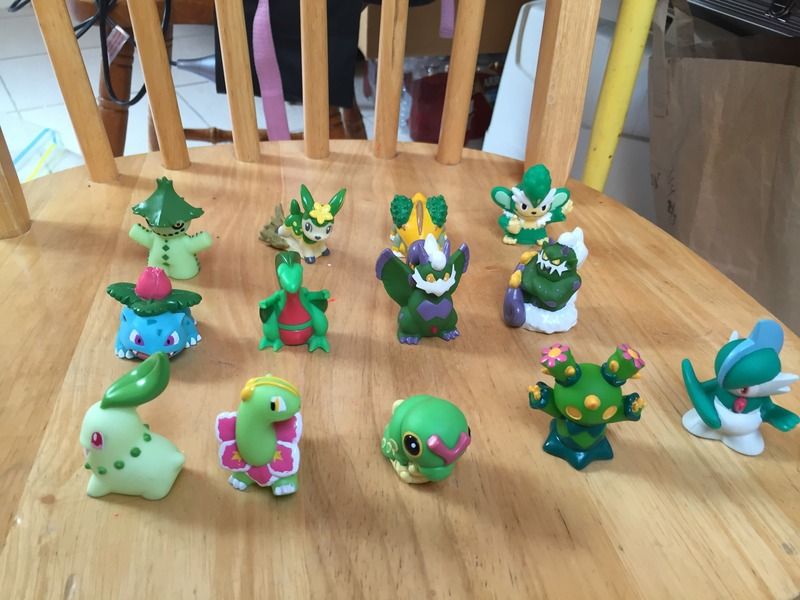 Green
Thunderus, Meganium: $3 each
Gallade, ivysaur, chikorita: $2 each
rest are 1.50 each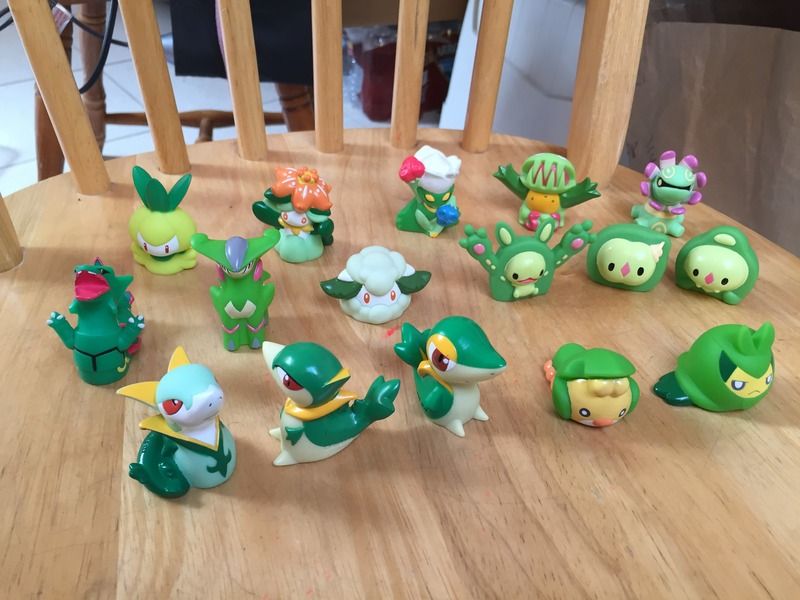 Green
Rayquaza: $4
Virizion: $3
liligant, serperior: $2.50 each
Snivy, servine: $2 each
rest are 1.50 each



Black
Black Kyurem, umbreon: $4
Zekrom, houndoom: $3 each
beautifly: $2



Black
Mega Mawile: $5
Attack emolga, attack zepstrika, eating munchlax, Sparkly and attack zoroark: $2.50 each
rest are $1.50 each



Black/Grey
All $1.50 each (darkrai is a bit scratched)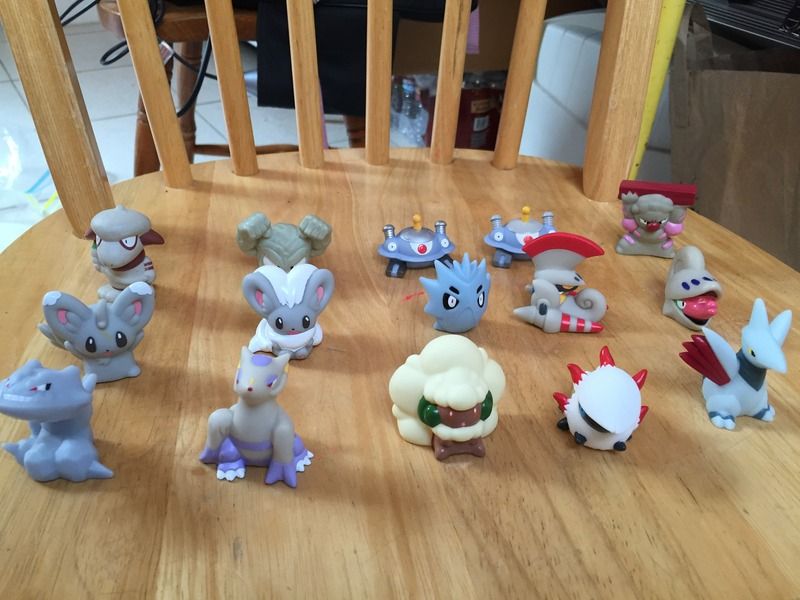 Grey/White
Steelix, Skarmory: $2
Whimsicott: $3
rest are 1.50 each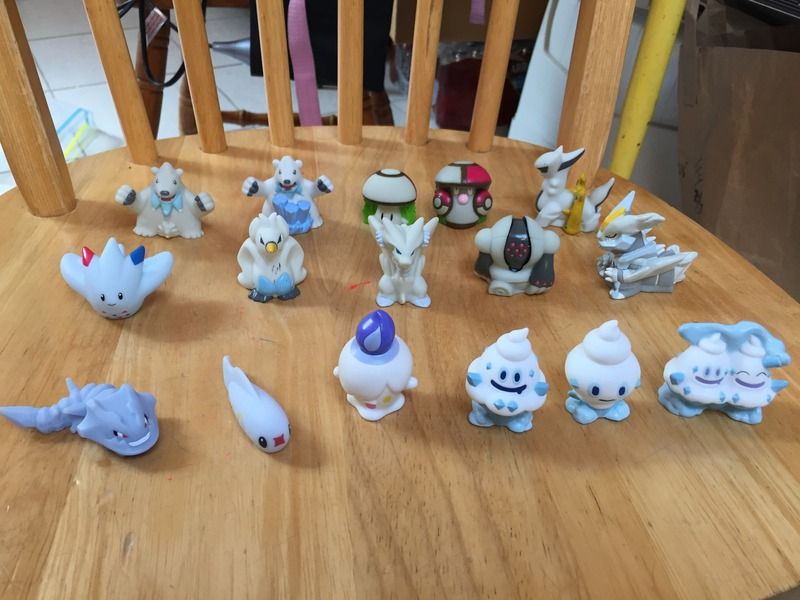 Grey/White
White Kyurem: $4
Arceus, Reshiram: $3 each
Steelix, Registeel, Litwick, togekiss, tynamo: $2 each
Rest are $1.50 each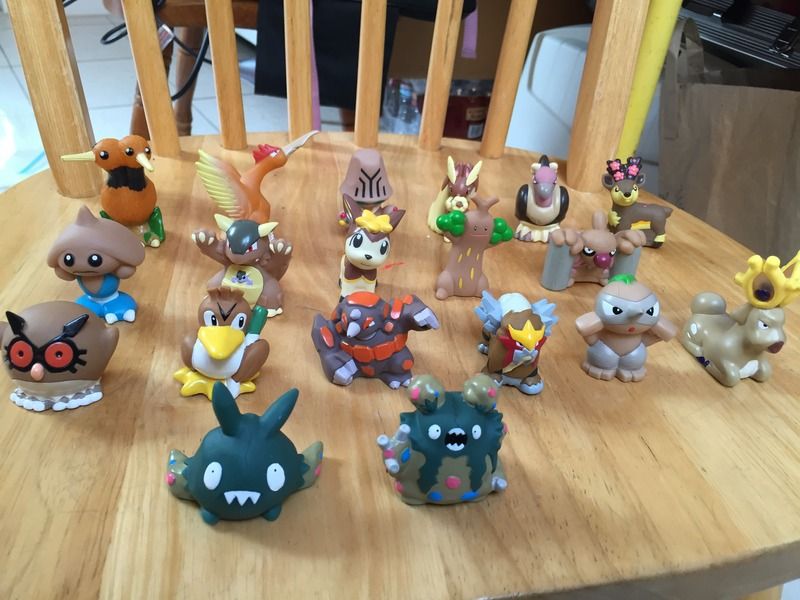 Brown
Lopunny: $2
Entei: $3
hoothoot, kangaskan: $2 each
rest are $1.50 each



Brown
Crying cubone, Manky with ash's hat: $2 each
rest are 1.50 each



Brown
Sentret, Krokorok, Kabutops: $2 each
rest are 1.50 each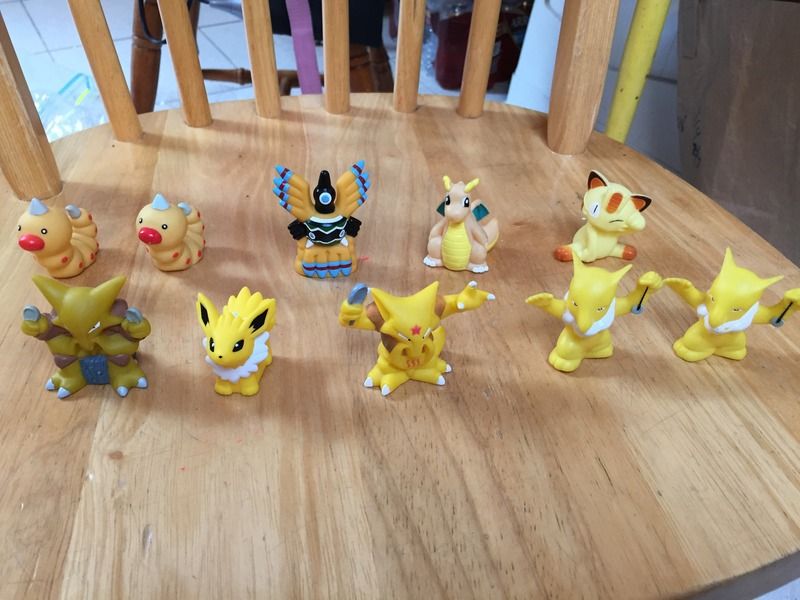 Yellow
Jolteon: $4
Rest are 1.50 each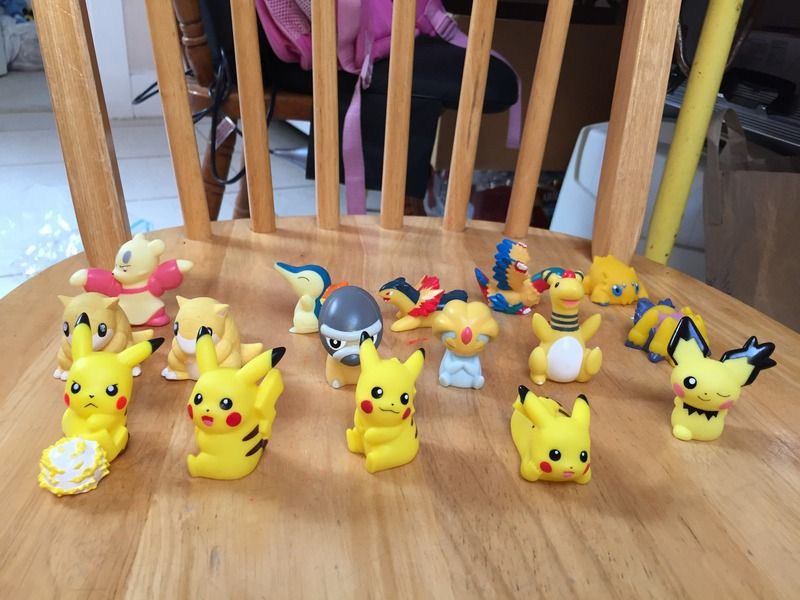 Yellow
Cyndaquil, Lying down pikachu: $2.50 each
Amphoras, Typhlosion, Archeops: $3 each
Joltic, uxie, galvantula, attack pikachu: $2 each
rest are $1.50 each





Click for flats (Currently Flats Sales is Closed)